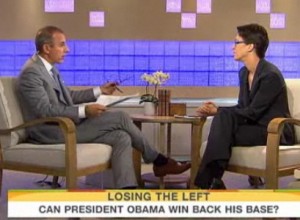 MSNBC mainstay Rachel Maddow appeared on The Today Show this morning to discuss President Obama's slipping support with the Democratic base. Maddow chalked it up to a general softening of support for Obama, and host Matt Lauer observed "They (Democrats) have nowhere else to go."
Maddow correctly points out that enthusiasm is the key, and sees promise in the President's current push, predicting that "(Republicans) are the ones that have to bend this time."
Lauer opens the segment by asking about Palestine's bid for UN recognition, a tough topic to cover in just over a minute. He asks whether the President has a "good option" between vetoing the resolution, or not. Maddow says his best option is to try to get the two sides to talk to each other, observing that the deadline could be helpful in that regard.
On the subject of the President's slipping support with the base, Maddow said, "I don't think the White House thinks it has a particular problem with the base. That said, if you lose support with the base, it has a multiplier effect."
"But the fact of the matter," Lauer said, "is you lose support among the base, what does that really mean in an election year? They have nowhere else to go."
"They have nowhere else to go," Maddow conceded, "but you need their enthusiasm."
Maddow continued to push back on the idea that the President has a problem with the base, and cited broad public support for his latest policy proposals.
Lauer noted a shift in the President's tone, asking what White House Communications Director Dan Pfeiffer means when he says "We've entered a new phase."
"In the previous fights with Congressional Republicans, if things didn't work out, things defaulted in the Congressional Republicans' direction," Maddow said, referring to the debt ceiling deal and the threatened government shutdown. "In this case…if things don't work out, this trigger happens. The White House would be okay with letting the trigger happen. That puts the pressure on the Republicans, that they are the ones that have to bend this time."
Maddow is encouraged by slight signs of bending by Sen. Jeff Sessions on taxing the rich.
While there may be Republicans who want to avoid those triggers, what Maddow, and the White House, ought to realize is that they will still have to sell any compromise to a Tea Party minority that has never met an iceberg it didn't want to hit, and to squishy Democrats who never met a towel they didn't want to throw in.
Here's the clip, from NBC's The Today Show:
Have a tip we should know? tips@mediaite.com