Rachel Maddow Preemptively Blames Fox News For The 'Next Few Months' Of 'Stupid Debate' On Egypt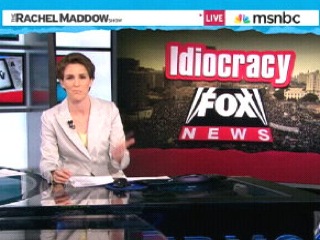 Rachel Maddow's patience with Fox News appears to have finally fully waned. Having spent a good amount of time on her program calmly arguing her side of the story in an attempt to debunk the loudest voices of her rival network, Maddow has now begun an all-out counter-campaign of concern for the "stupidifying effect" of having Fox News broadcast and watched on American airwaves, beginning with the "death panels" and arriving at the "leftist caliphate."
Maddow opens up a segment entitled "idiocracy" about her rival network with a disclaimer: this has nothing to do with ratings. Except it has everything to do with ratings– not hers– but the fact that Fox News' are so high that their broadcasts have the effect of significantly altering the political discourse on a national scale. Maddow put it slightly blunter than that, referring specifically to the "death panel" debate:
"Our politics are now stupid. Our politics are now partially organized around a thing that is a lie because Fox said it a lot. We are consigned as a country to have stupid nonsense about something that is not health reform instead of fighting about what health reform actually is because of the influence of Fox."
Then she went after, Glenn Beck's recent talk attempting to explain the situation in Egypt, much talk that involves the radical left, Muslim extremists, and the creation of a caliphate run under the iron fist of fundamentalism. Maddow at least acknowledges that Beck's theories are well listened-to and will be repeated ad nauseum before resolution comes to Egypt, but that's precisely what she fears: "Can you imagine how stupid our debates are going to be on foreign policy in this country for the next few months after Fox spent the entire week of the Egyptian revolution broadcasting these conspiracy theories?" she asked herself, rhetorically.
Maddow is later joined by the soothing presence of The Nation's Chris Hayes, who tries to rationalize Beck's theories to Maddow, but the closest he can come to explaining the way the logic works is that it's like "making a smoothie out of everything in your cabinet."
Last night's segment via MSNBC below:

Have a tip we should know? tips@mediaite.com