Rachel Maddow Raises The Bar By Tackling Menendez's Politically Inconvenient Prostitution Scandal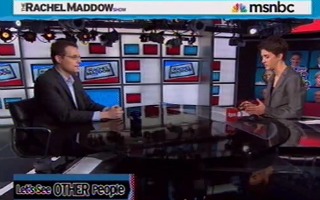 Partisan opinion journalism gets a bad rap, but it is often more informative and nearly always more compelling than so-called straight news broadcasts. Conservative columnist Jonah Goldberg may have said it best when he recently admonished The New Republic for feigning objectivity. "Good opinion journalism, I've long argued, is superior to most "objective" journalism, precisely because it makes an honest argument," Goldberg wrote. He was not speaking of MSNBC host Rachel Maddow's evening news broadcast at the time, but he could have been. No other host on the network so regularly eschews red meat in favor of tackling complicated or inconvenient subjects. There is perhaps no better example of Maddow's facility for delving into topics anathema to the other hosts on her network than last night, when she broke MSNBC's silence about the rapidly sprawling scandal facing Sen. Robert Menendez.

RELATED: N.J. Sen. Bob Menendez Paid For Sex, Dominican Prostitutes Claim
On Wednesday night, Maddow invited co-host of The Cycle, Steve Kornacki, on her program where they became the first MSNBC hosts to open the subject of Menendez's scandal, which allegedly involves his patronization of underage prostitutes in the Dominican Republic. Though the allegations facing Menendez were not discussed, the courage it takes to open up a subject that the senator himself is dismissing as having been "manufactured" by a "right-wing blog" merits applause.
Before Maddow's broadcast, most major news outlets, including MSNBC, had maintained a conspicuous silence about the allegations Menendez faces. Conspicuous, in part, because the potential to put the words "scandal," "underage," "prostitution," and "U.S. Senator" into the same headline is a temptation that few in the media can, or should, be able to resist.
This scandal has been brewing since before Mendez's reelection victory in November of last year, but it began to pick up steam last week — culminating in a FBI raid on the offices of a Menendez ally and campaign donor who may have helped fund those mysterious trips to the Caribbean.
MSNBC had ample opportunity to raise the topic of Menendez's scandal directly with the senator. On January 22, Menendez appeared on Andrea Mitchell's MSNBC program to discuss Hillary Clinton and the federal government's response to the attack in Benghazi. On January 28, the senator joined Ed Schultz where he weighed in on immigration reform. On both occasions, the elephant in the room was not acknowledged.
Maddow's segment featured no moralizing or preening over what are, as of this moment, merely allegations. Their focus was on the potential political consequences for New Jersey and the nation should this controversy take on a life of its own and force Menendez to resign his Senate seat.
Perhaps this topic – tackled by the living political encyclopedia that is Steve Kornacki – just tickled my electoral erogenous zone. But I think it also speaks to Maddow's general fearlessness and her ability to occasionally broach controversial topics which may not be well-received by the most partisan members of her audience.
Plaudits are due to Rachel Maddow and her news broadcast. Since she led the way, anchor Tamron Hall aired an NBC News package detailing the scandal in its entirety, educating MSNBC's audience about what are serious charges facing one of the nation's most powerful elected officials. The audacity of Maddow to use her platform to focus on real news over advocacy made this possible.
Watch the clip below via MSNBC:
> >Follow Noah Rothman (@NoahCRothman) on Twitter
Have a tip we should know? [email protected]