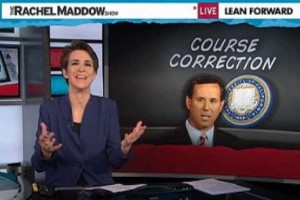 Even though Rick Santorum is out of the presidential race, his words continue to reverberate throughout the minds of voters. And in the halls of MSNBC, where Rachel Maddow has been hammering away at Santorum for his claim that universities in California do not teach American history, despite the fact that they, in fact, do. Then she revealed that Santorum himself had actually sent her a message personally to clarify what he meant.
RELATED: Santorum Claims 'Seven Or Eight' Univ. California Schools Don't Teach American History
Maddow pointed to an interview that she conducted with a top Santorum strategist earlier this year, where said strategist admitted Santorum would admit he was at fault if it turns out the information was incorrect. Then she revealed that she had followed up with Santorum, and just a few hours before yesterday's show, Santorum personally wrote back to her. Here's his message in full:
"Rachel, on a recent show you discussed a statement I made that American history was not being taught at a number of California state universities. You questioned the accuracy of my statement. Based upon your broadcast I went back and reviewed the facts. It's clear that my memory about what was taught was faulty. What I should have said was that none of the UC campuses teach a survey course in Western Civilization.

Rachel, I appreciate your efforts pointing out my misstatement, and for giving me the opportunity to set the record straight."
Maddow was amazed that Santorum took the time to get back to her in such a gracious manner, but she pointed out that despite his clarification, he's still wrong. She went down a whole list of UC campuses that actually do have courses with the exact phrase "Western Civilization" in the title.
Watch the video below, courtesy of MSNBC:
Have a tip we should know? tips@mediaite.com
Josh Feldman - Senior Editor