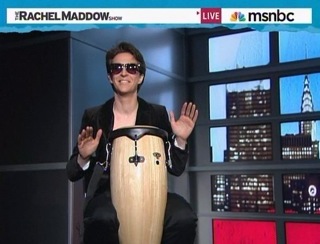 Before today, most of what the media knew about 2012 Republican candidate Jon Huntsman was that he seems to like the desert, motorcycles, and very weird campaign ads. That's still most of what is known today, but at least his latest ad makes an attempt of assembling facts, and Rachel Maddow tonight made an attempt to find poetry in those words, complete with conga drum and oversized shades.
Maddow began her segment without any real explanation, reciting seemingly nonsensical phrases over her own drumming. "Never raises his voice, but seldom takes no for an answer." "Not in it for the balloons." They were not pages from Maddow's own poetry notebook but, rather, from Huntsman's latest campaign spot, which Maddow found so completely weird that she even attempted to invite William Shatner on the program the spot's script. He was not available, so Maddow filled in his shoes, later explaining some of the details of the ad– for example, "there is no subsequent explanation for what the balloons are." She also noted the line "not in it for the winning"– the diametric opposite of the famed "in it to win it" line that most candidates use because they're, well, in the election because they want to win.
Maddow's barbs were quite light-hearted, however. Noting that "I do not mean to make fun of Jon Huntsman's campaign," she admitted that she liked the ads so much they almost made her reconsider Huntsman's policies. "I personally believe in American weirdness so much," she confessed, "that it almost occludes my view of Jon Huntsman's right-wing politics that he is trying to be this weird while running for President. I love this!"
Make fun of the ads all you want, but Jon Huntsman just made Rachel Maddow consider supporting a Republican. Almost.
The segment via MSNBC below:

Have a tip we should know? tips@mediaite.com