Rachel Maddow: 'Republicans Are Obviously Furious' With Romney Over 'Gifts' Comment
Maddow: Republicans 'Obviously Furious' With Romney Over 'Gifts' Comment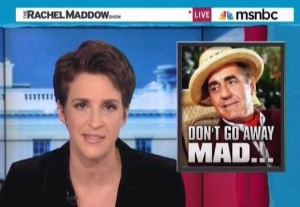 Rachel Maddow may have spoke too soon when she said last night that we may never be able to hear from Mitt Romney again, because during a conference call that came out today, Romney said he lost the election because President Obama promised voters "gifts." Maddow highlighted Romney's comment to make a point that many Republicans are publicly rejecting what he said, forcing them to specifically explain what is wrong with that line of thinking.
RELATED: White House Hits Back At Romney's 'Gifts' Remark: It's 'At Odds With The Truth'
Maddow played the audio of Romney blaming his loss on Obama's gifts, and highlighted the former GOP presidential candidate touting his "highly effective" campaign strategy. Among the gifts Romney spoke of were free contraceptives, DREAM Act waivers, and student loan interest rate cuts.
Maddow noted that other Republicans "seem very mad" over the comments, highlighting Republicans including Marco Rubio and Bobby Jindal absolutely rejecting what Romney said.
"Republicans are obviously furious with Mitt Romney for these latest comments for continuing to spotlight the most alienating, most elitist, most resentment-driven weaponized Thurston Howell ideological edge to what Republicans are offering the country, so you can see why they would be so angry at him."
Maddow concluded that Americans should thank Romney for continuing to remain in the public eye and insisting that he did nothing wrong, because he is forcing other Republicans to specifically "articulate what is wrong with that way of thinking." Maddow saw this as a positive step for the GOP.
Watch the video below, courtesy of MSNBC:
—–
Follow Josh Feldman on Twitter: @feldmaniac
Have a tip we should know? tips@mediaite.com
Josh Feldman - Senior Editor