Rachel Maddow: Rick Perry Probably Owes Detroit An Apology For Ties To Radical Anti-Muslim Preacher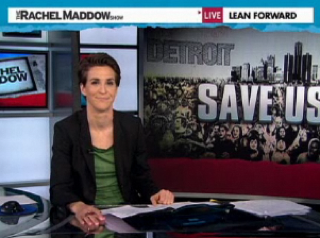 The city of Detroit is "ground zero" for the culture wars, raves preacher Lou Engle, who has begun to stage overnight prayer events intended to convert Muslims to Christianity through revelations in their sleep. This the latest news from Rachel Maddow, who reminded her audience last night that kooky religious extremism was not foreign to the United States, nor foreign to politics– Engle, it turns out, participated in last summer's Rick Perry prayer event.
RELATED: Egypt Shuts Down Great Pyramid At Giza Amid 11/11/11 New Age Ritual Rumors
Maddow started her report with the bizarre news that the Great Pyramid at Giza was shut down because the Egyptian government (allegedly, they denied it) feared some sort of occult rituals happening on 11/11/11. It sounded silly, she argued, because it was so far away, but American radicals were no more bizarre. Engle, she noted, was in charge of an event entitled "The Call," which were essentially sleepovers to mass convert American Muslims to Christianity by praying revelations into their sleep. He had cited "poverty, racism, and Islam" as the three major threats facing Detroit, and is fighting for conversion through prayer.
RELATED: Rachel Maddow: Rick Perry's Weekend Speech Was '25 Minutes Of Dean Screams' That Will End His Campaign
"He says Detroit has demons because Detroit has Muslims," Maddow narrated somewhat incredulously, before turning to address Detroit itself: "you do not deserve flotsam like Lou Engle washing up in your stadium," she offered by way of comfort, adding that, given his participation in Perry's event, "you probably deserve an apology from Rick Perry" for having helped mainstream Engle's beliefs.
The segment via MSNBC below:

Have a tip we should know? tips@mediaite.com