Rachel Maddow: Rick Perry's 2012 Run Is Power Grab For Christian Conspiracy Group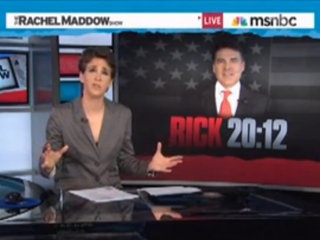 Texas Governor Rick Perry's prayer event "The Response last weekend raised plenty of eyebrows for coming on the heels of much presidential speculation, and for featuring a number of pastors with some controversial views. On her program tonight, Rachel Maddow tried to find the common thread among these pastors, and she argues it is not that they have all "just had a moment where they said something that sounded strange." They are members of the New Apostolic Reformation, she argued: a small religious group plotting world domination.
Maddow noted that for Perry to have invited many of the characters that appeared at his event was enough of a threat to any potential campaign– not because of the prayer itself, but "the risk for his President campaign was… that the particular stadium prayer event he held was with these guys." She then played a montage of clips in which the pastors warned of the "whore of Babylon" and the threat of Oprah Winfrey and several other extreme comments. "These are not just one-off comments," she argued, "they are saying things that are sounding a lot like each other." The thematic similarities, she noted, were because they were all part of the New Apostolic Reformation, a group of "modern day prophets and apostles" who "believe they have a direct line to God."
This information she got from an extensive article in the Texas Observer that explained the group was out to take over the government in order to make the world ready for the Rapture. Their goals, Maddow explained, were to conquer "the seven mountains of society: family, religion, arts and entertainment, media, education, business, and government." That last one, she argued, was Perry's domain to conquer.
While it is true there are similar narratives to these Christian sermons and Perry is intent on gaining the presidency, there's just something a little too "Illuminati" about a small group of religious leaders plotting to take over the world. That's not to say it may or may not be true– certainly there hasn't been enough journalism released on the matter to take a stand– but arguing that a self-appointed elite is trying to take over the world always carries the risk of sounding a little off, especially in the context of a Presidential election.
The segment via MSNBC below:
Have a tip we should know? tips@mediaite.com