Rachel Maddow: Rick Perry's Weekend Speech Was '25 Minutes Of Dean Screams' That Will End His Campaign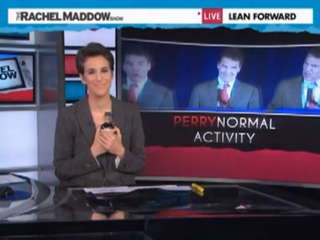 Rachel Maddow does not think the sexual harassment charges against Herman Cain are the most devastating development to a candidate from this weekend. In fact, she thinks his campaign might survive. But what won't see the light of day for much longer, Maddow concludes, is the Rick Perry effort, after a 25-minute speech of bizarre, excited, slurred, and manic display at a Cornerstone event in New Hampshire this weekend.
RELATED: Joe Scarborough Sees Rick Perry Speech And Thinks 'Valium, Vicodin and Vodka'
"There is not an empirical means by which I can explain why this footage may be the end of Rick Perry's campaign this year," Maddow prefaced, but noted that the speech "does not count as a gaffe," and added a caveat that there may be "some sort of physical explanation" for his behavior, or a medical problem with which he could explain away why he was behaving strangely. Then she played the tape of Perry's exaggerated gestures, of his whispering "awesome!" at a bottle of maple syrup (Maddow also had a bottle of maple syrup with her, which she held onto a bit before apologizing for being "unprofessional").
"It's sort of like the 'Dean Scream' moment," she recalled, playing that now-famous clip that sunk the Howard Dean campaign. But "it's not one out-of-context segment, this is 25 minutes… and every one of these moments was a Dean scream."
RELATED: Watch: Rick Perry Goes Off-The-Cuff During Unconventional Cornerstone Speech
For historical context, Maddow looked for another example of a weird quote that sunk a campaign, and found the 1968 effort of George Romney, father of Mitt, who argued that the only reason he ever supported the Vietnam war was "because he had been 'brainwashed,'" and thus ceded the primary to Richard Nixon. Similarly, Perry had destroyed his image, Maddow argued, that went from "Rick Perry posing for Mt. Rushmore" to "Rick Perry cuddling with syrup."
The segment via MSNBC below:
Have a tip we should know? tips@mediaite.com