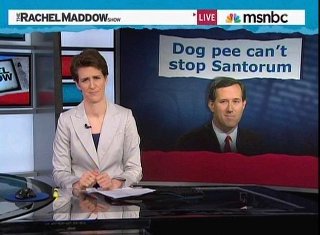 Rachel Maddow devoted some time to potential Republican presidential candidate Rick Santorum tonight to share the tale of a classic Catch-22 come full circle – and what Team Maddow is doing to help. The theme for the segment: "Dog pee can't stop Santorum." Clearly, this is going to get weird – and Maddow, it seems, was just fine with that.
Santorum's issue is what Maddow termed a "Google problem." It starts with the fact that he's lacking in name recognition – opinion polls cited by Maddow placed him near the bottom of prospective GOP nominees. In other words, exactly the kind of person who'd benefit from you Googling him…except that if you do Google him (as Maddow noted, it may be unwise for you to do so at work), the top result will take you to this site (again…NSFW) – at which point the attention gained from Googling his name doesn't seem so beneficial.
That site's existence is thanks to sex columnist Dan Savage, who started it as a response to some comments Santorum made on gay marriage in 2003. A few of those comments, as highlighted by Maddow tonight:
In every society, the definition of marriage has not ever to my knowledge included homosexuality. That's not to pick on homosexuality. It's not, you know, man on child, man on dog, or whatever the case may be. It is one thing. And when you destroy that you have a dramatic impact on the quality —
Emphasis ours, because in another turn of events, Santorum included an anecdote about a dog in a more recent speech he gave. Long story short, a dog relieved itself on him, but he pressed onward (hence, dog pee can't stop Santorum). And so Maddow couldn't help but notice how it's all come full circle: Santorum's Google problems started in part with a clumsy (at best) comparison of gay marriage to "man on dog" bestiality, and now another reference to a dog could make them even worse. Maddow's here to help, though: if you enter the URL dogpeecantstopsantorum.com, the result is decidedly safe for work. Video below, via MSNBC.
Have a tip we should know? tips@mediaite.com