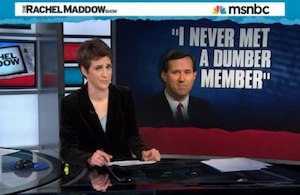 The recent capture and killing of Osama bin Laden reignited the debate over waterboarding, torture, and the specific role it played in gathering necessary intel that led to the successful raid of just over two weeks ago. As such, Senator John McCain reasserted his position that torture was something in which the U.S. should never engage, to which GOP presidential candidate Rick Santorum oddly retorted that McCain didn't understand torture. Yes, the very John McCain that suffered five years of torture as a P.O.W. in Vietnam.
Rachel Maddow took exception to this, and insisted that Santorum apologize to McCain for his remarkably "stupid" comments.
After resetting the entire story, Maddow chided Santorum as follows:
I do not usually say things like must or even should on this show. But in this case, clearly Rick Santorum must apologize. It is unimaginable that he will not apologize for this. until that happens, though, we will bide our time waiting for the apology by enjoying the pitch perfect response from Senator McCain's staffers and friends and family.
One of the characteristics that makes Rachel Maddow stand out from her opinion media peers is that, even though she is a proud progressive, she is not blinded by her ideology to the point that she cannot call bs on what she clearly deems as dopey rhetoric targeting a conservative. And, lest one think that Maddow has some sort of soft spot for Senator McCain, she has previously ripped him apart for his own rhetorical inconsistencies.
Seems like she's just calling them as she sees them. Watch the clip from MSNBC below:
Have a tip we should know? tips@mediaite.com