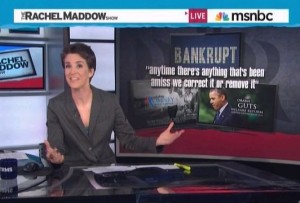 During an interview on CNN this week, Republican presidential candidate Mitt Romney was confronted about the inaccuracies in his campaign ads after being reminded that his campaign was going after President Obama's camp for lying in their ads. Romney insisted that his ads have been "absolutely spot-on, and anything that's been amiss, we correct it or remove it." This seemed off to Rachel Maddow, who proceeded to spend the next ten minutes going into detail about just how much Romney's campaign has played fast and loose with the facts.
RELATED: Peggy Noonan: 'It's Time To Admit The Romney Campaign Is An Incompetent One'
Maddow said that while most political campaigns generally take down or correct inaccurate information, Romney's comments this week are newsworthy because his campaign has not done that. She told viewers that this has been going on since past November, running an ad from the Romney campaign which erroneously misquoted President Obama, but an advisor for Romney defended the ad by saying it "worked." Maddow pointed out the misleading ad is still up on Romney's website, and said his campaign never bothered to correct the record.
Another ad released by the Romney campaign in May, quoting an administration official as saying Solyndra contracts were given to "friends and family," was found to be "empirically false." That ad is also still on Romney's website, as Maddow pointed out, as is the highly controversial ad that accused Obama of removing work requirements from welfare programs. And how did the Romney campaign defend that one? As Maddow reminded viewers, a pollster for the campaign said that they won't "let our campaign be dictated by fact-checkers."
CNN's Jim Acosta brought up the welfare ad in his interview with Romney this week. Romney did not back away from the ad, and despite the fact-checks to the contrary, defended its accuracy. Maddow acknowledged that political campaigns will often make mistakes or exaggerate claims, but they get called out and end up apologizing. The Romney campaign, she argued, is doing something very different.
"What's strange here is not that the Romney campaign has made some false claims in the campaign, right? What is strange here is that when they have gotten things wrong, when they've been called out for getting things wrong, they have never tried to fix it. They have not treated it as a concern when they have been caught lying, when they have shown to be making demonstrably false claims."
However, what Maddow also noticed is a sneaky attempt by the Romney campaign to have the candidate take a position contrary to the one he has already taken, then quietly release a statement walking the comments back. She highlighted the confusion last month over Romney's comments on Obamacare and a subsequent statement from the campaign taking an entirely different position on it, as well as on other issues including abortion, Iran, and whether or not Obama has raised taxes.
Maddow concluded that Romney is just telling people "what they want to hear" even if it is not his position, and then leaves it to his campaign to quietly walk back what it is he said.
Watch the video below, courtesy of MSNBC:

—–
Follow Josh Feldman on Twitter: @feldmaniac
Have a tip we should know? tips@mediaite.com
Josh Feldman - Senior Editor