Rachel Maddow Rolls Her Eyes At GOP's New Minority Outreach Efforts: 'Not Off To A Great Start'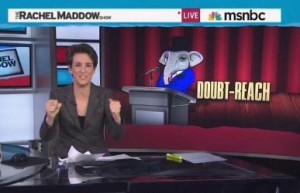 Rachel Maddow tonight took on one of the most important provisions of the Republican party's big "autopsy" report: minority outreach, specifically to the Hispanic community. Maddow reminded viewers of the GOP's rocky history of making unhelpful comments about Obama's minority appointes to the cabinet and even the Supreme Court. But Maddow highlighted a few different statements in reaction to the nomination of Tom Perez to run the Labor Department to say this new outreach effort isn't exactly off to a great start.
RELATED: RNC Releases 'Autopsy' Report Aiming To Repair Image As 'Scary,' 'Out Of Touch' Party Of 'Stuffy Old Men'
Maddow reminded viewers that Obama made history with his appointments of Sonia Sotomayor to the Supreme Court and Hilda Solis to head the Labor Department in the beginning of his first term, mentioning how the president officially announced Perez on the same morning as RNC Chairman Reince Priebus released the findings of an internal GOP "autopsy," one of which was that the party needs to do better at reaching out to minority voters.
But beyond that, the report emphasizes how Republicans must show their "sincerity" with minorities. Maddow summed this up by saying all it means is that they just want to act nicer instead of changing their actual policies. She pointed out how in the wake of Sotomayor's nomination, she was called a racist and likened to David Duke. Maddow said that the way Republicans treated Sotomayor most likely hurt their image with Hispanic voters.
So this new effort being announced on the same day as the Perez nomination is a "test," as Maddow labeled it, to see how the GOP can react to his nomination. And she highlighted some choice responses from Rush Limbaugh and Michelle Malkin, as well as some awkward stereotyping of Hispanic Americans early Tuesday by Senator Rand Paul. Maddow concluded that the GOP's big reboot is "not off to a great start," and said it's already time for them to go back to the drawing board.
Watch the video below, courtesy of MSNBC:
—–
Follow Josh Feldman on Twitter: @feldmaniac
Have a tip we should know? tips@mediaite.com
Josh Feldman - Senior Editor