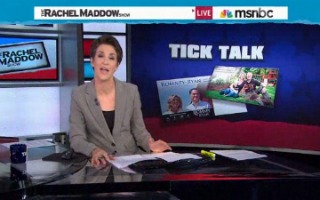 On Friday, MSNBC's Rachel Maddow went over some key difference between Barack Obama and Mitt Romney's respective campaigns at this point in the election.
For one, Obama campaign workers recruited the University of Northern Iowa marching band to lead voters from an auditorium — where First Lady Michelle Obama urged them to go vote — directly to voting booths. The Romney campaign, on the other hand, would rather people wait a little longer to case their votes, particularly in light of recent poll numbers showing Obama taking the lead in various swing states. And, in the meantime, they've been trying various means of softening Romney's public image:
At Romney events, they have started playing that video that they made for the RNC but then they bumped from network coverage in favor of the crazy Clint Eastwood thing. This video about Mr. Romney and his family, it's very nice. Nobody saw it at the convention, but they're using it at their events now. Right. And they gave Time magazine that 1968 photo of young Mitt Romney on a beach in France with his love letter to Ann written in the sand. Yeah, I mean, you can understand why they wouldn't maybe want to highlight that Mitt Romney spent his draft eligible years writing love letters in France instead of serving in Vietnam. But there is also a human benefit to showing him, right? Human! An ounce of handsome, humanized Mitt at this point might be worth a pound of questions about how he avoided serving during the war.

They are trying. They've even got him talking about health reform in Massachusetts again. And conservatives now are so scared of him losing as badly as it looks like him losing, that they are not even squawking about it as they did when he talked about RomneyCare just last month. The Romney campaign is trying to do some things right. They are trying to make people dislike their candidate less.
But, then, there are comments like Bill Marriott's anecdote about Romney helping him tie up his yacht — a nice story about Romney's kindness and helpful nature, definitely, but one that does not help render him a relatable candidate, or one who can understand what the average American is going through.
So the Romney campaign is trying new tactics, including one that Maddow didn't appear to fully believe was real: A flyer about the Romney-Ryan ticket's commitment to combating Lyme Disease. And, then, there are even more questionable "freelance" campaign tactics, like Clay County GOP party volunteer who told at least one potential voter that Obama is a Muslim with socialist views who will take away Medicare and make this a "socialistic country."
Have a look, via MSNBC:
Have a tip we should know? tips@mediaite.com