Rachel Maddow: 'Ron Paul Voters Are Human Beings, Too. Why Does Nobody Compete For Them?'
Maddow: 'Ron Paul Voters Are Human Beings, Too...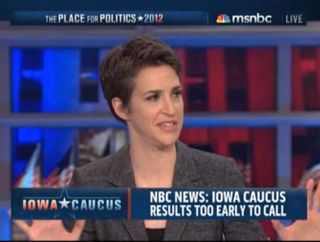 With the results of the Iowa caucuses still to close to call in a seriously difficult to pin down three-way race, the fate of one of those candidates' supporters was on Rachel Maddow's mind tonight as it became increasingly clear that either Mitt Romney or Rick Santorum would take the state: Rep. Ron Paul's. Why, Maddow asked, did no other candidate try to lure in Rep. Paul's supporters? After all, "Ron Paul voters are human beings, too!"
RELATED: Rep. Ron Paul To Terry Moran On Whether He Sees Himself As President: 'Not Really'
"It's like he's a miasma in the room; it's like he doesn't have corporeal form," Maddow remarked of Rep. Paul, wondering why nobody competes for them during MSNBC's election coverage tonight. Lawrence O'Donnell responded by noting that Rep. Paul's influence was felt in how extreme some of the more conservative candidates have become on foreign policy, claiming they would be comfortable attacking Iran. He added that Rep. Paul, despite his libertarian views, was benefiting from the Republican label. "If he were running as a Libertarian, we would never speak of him ever!" he joked.
Maddow rebutted him on the idea that Republicans could simply ignore Rep. Paul should he win Iowa because "that's not our politics," but O'Donnell disputed that claim by pointing to the way Mike Huckabee was dismissed in 2008. But Maddow wasn't entirely referring the Rep. Paul being ignored as a candidate, but his supporters as a group of voters who could be consolidated into another campaign, particularly if Rep. Paul refused to run as a third party candidate later on.
That possible scenario Steve Schmidt suggested was barely possible because of Sen. Rand Paul, and the damage to his career the elder Paul running as a third party candidate– "there would be devastating political consequences… for Rand Paul and I don't think he would that to his son," he commented.
So what would an exit for Rep. Paul mean for other candidates? Al Sharpton suggested it would be a boost for Newt Gingrich if he responded wisely, as he was the only candidate who refused to say he would vote for a nominee Paul.
The segment via MSNBC below:

Have a tip we should know? tips@mediaite.com