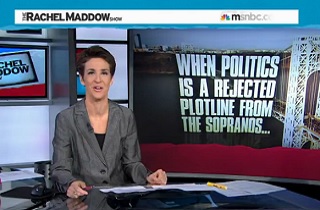 The scandal involving the September closing of toll lanes from Fort Lee, New Jersey onto the George Washington Bridge exploded in a major way Wednesday with the release of emails and texts implicating top deputies to Governor Chris Christie (R-NJ) in a political retribution scheme. While the story has been simmering on the national radar for awhile, MSNBC's Rachel Maddow went in on the story early, and stayed on it.
When the story first surfaced in December, prompted by the resignations of two Christie appointees, the possibility that the bridge lane closures were political retribution seemed like the most paranoid fever dream, which was reflected in Maddow's first segment on the topic, way back on the December 9 edition of The Rachel Maddow Show. In introducing the story, Rachel ticked through a number of other completely absurd stories, like a brigade of snake-killing dead mouse paratroopers. Skeptical viewers might have watched that show, and wondered why Maddow devoted 18 minutes, her entire A-block, to what appeared to be a quixotic pet story that, even if true, seemed impossible to prove:
What a difference a month makes. The early coverage of this story, which took a serious turn with the revelation that the resulting traffic jam delayed medical attention to a 91 year-old woman who later died, framed it as a political attack by Democrats. CNN.com first covered the story on Dec. 10, under the headline "First on CNN: Dem group goes after Chris Christie on bridge controversy."
On December 13, The Lead host Jake Tapper filed a couple of reports, one of which even included a screengrab from Maddow's show, about "a complicated local story that is only national because national Democrats have taken aim and are now talking about Governor Chris Christie's connection to this controversy," and played several of Christie's reactions at the time, reactions which are cast in a different light given Wednesday's revelations:
At the time, of course, that is how it looked: like a scandal being pushed by partisans, with the smoke of some resignations and allegations, but no fire. CNN's coverage of the story went fallow from there, aside from an online report a few weeks later, then woke up with a vengeance Wednesday with Tapper's obtainment of the emails and texts that were first reported by The Bergen Record.
Maddow, though, stayed on the story like a stray sock on the Turnpike, devoting segment after segment, in December and January, tracking every development, and interviewing elected officials involved in investigating the scandal. On Wednesday night, the circle was closed when Maddow played some video of Tapper's reporting on the blockbuster developments.
In the current media landscape, much is made over the differences between so-called "opinion" programming and straight news, and this story perhaps illustrates the ways in which the forms can complement each other. Rachel Maddow's point of view may have, indeed, been a factor in selecting this story, but she got it right, and kept it on the stove until the facts caught up. When assessing opinion and hard news, the content should be evaluated on the merits, and not dismissed simply because a point of view is involved, or accepted because one isn't evident. Tapper, in his early reporting, acknowledged the point of view, but he also did his job, and developed his own reporting on it when the facts merited it.
Have a tip we should know? [email protected]