Rachel Maddow Says WSJ Story on Possible End of Wisconsin Standoff Was 'Bad Reporting'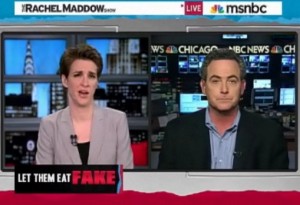 Over the weekend, a report surfaced that an end to the standoff in Wisconsin was imminent, and that the so-called "Wisconsin 14" were ready to return to the state to vote on Gov. Scott Walker's (R-WI) "budget repair bill." On her program Monday night, MSNBC's Rachel Maddow called that "bad reporting," and interviewed State Sen. Jon Erpenbach, who told Maddow that State Sen. Mark Miller, the legislator quoted in that reports, was singing a very different tune to Erpenbach.

Erpenbach told Maddow that when he spoke to Miller, nothing had changed, and that the Wisconsin 14 were "not budging" on collective bargaining. He and Maddow also explored the possibility that the Democrats could turn two more Wisconsin Republicans, along with reported defector State Sen. Dale Schultz, to defeat the "budget repair" bill:
The Wall Street Journal report in question quotes several sources, but relies most heavily on indirect quotes from Miller:
Sen. Mark Miller said he and his fellow Democrats intend to let the full Senate vote on Gov. Scott Walker's "budget-repair" bill, which includes the proposed limits on public unions' collective-bargaining rights. The bill, which had been blocked because the missing Democrats were needed for the Senate to have enough members present to vote on it, is expected to pass the Republican-controlled chamber.

He said he thinks recent polls showing voter discontent with Mr. Walker over limits on bargaining rights have been "disastrous" for the governor and Republicans and give Democrats more leverage to seek changes in a broader two-year budget bill Mr. Walker proposed Tuesday.
Another version of the report contained this quote from Miller:
"We are now looking at returning to the state capitol and requiring the senators to take a vote and have them declare who they're with — the workers or the governor," Mr. Miller said.
State Sen. Chris Larson later disputed the report, saying the quote was taken out of context:
Sen. Miller's comments are taken out of context in the Wall Street Journal article just released. Dems will return when collective bargaining is off the table. That could be soon based on the growing public opposition to the bill and the recall efforts against Republicans. Unfortunately, the WSJ fished for the quote they wanted, skipping this key step in logic: we won't come back until worker's rights are preserved.
The strange thing here is that neither Larson, nor Erpenbach, dispute the actual quote, just the context. Is this really a case of "bad reporting," or a case of "buyer's remorse" by a news source who went a little off-message? The Wall Street Journal seems to be standing by its reporting:
On Sunday, Mr. Miller told The Wall Street Journal that Senate Democrats were planning to return to allow a vote, without providing a timeline. On Monday morning, he sent the governor and Mr. Fitzgerald an open letter offering to meet in person "near the Wisconsin-Illinois border to formally resume serious discussions as soon as possible." It wasn't clear whether Mr. Miller had changed his mind about Democrats returning.
"Bad reporting" or not, Sen. Miller seems pretty clear on where he stands now, having sent a letter to Gov. Walker and State Senate Majority Leader Scott Fitzgerald proposing a meeting near the Wisconsin-Illinois border. This prompted the less-than-warm response to which Erpenbach alluded. If Miller's resolve was, indeed, weakening on Sunday, his fellow Democrats seem to have bucked him back up.
Have a tip we should know? tips@mediaite.com