Rachel Maddow: Sen. James Inhofe's War With The FAA Is Really About His Horrible Flying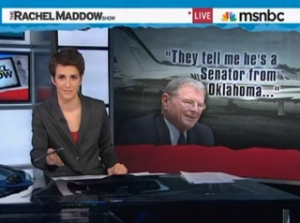 The Republican struggle to reducing government spending has taken many forms, one of which as of late has been an attempt to clamp down on the FAA's pilot regulations. That effort is being led by Sen. James Inhofe in the Senate, which, Rachel Maddow notes, is rather curious, since the FAA reprimanded Sen. Inhofe lately for being a terrible pilot and almost landing his private plane on a closed runway full of people.
Sen. Inhofe, who Maddow takes great pleasure in addressing as "Mountain," is an "amateur pilot" whose attempt to land a plane in South Texas recently terrified a number of construction workers. The landing of the small private plane was attempted on a runway, Maddow notes, explicitly marked closed. That didn't stop Sen. Inhofe, however, who "decided to land his private plane on the runway anyway." This, according to Maddow, "nearly caused an accident" and resulted in many construction workers being terrified, as an eyewitness audio account Maddow played clearly showed.
Maddow brings this up because Sen. Inhofe is now, as she put it, "going after the FAA with both barrels." "He almost landed a plane on a group of construction workers on a closed runway, inexplicably, but now he's the victim," she noted. Sen. Inhofe was ordered to take remedial classes for the incident and was not fined, though he described the aftermath of the incident as full of dread in a way that was difficult to describe without having lived it. Much, Maddow concluded, like being a construction worker and watching a plane prepare to land right on top of your body.
The segment via MSNBC below:

Have a tip we should know? tips@mediaite.com