Rachel Maddow Seriously Doubts Scott Brown's 'Bqhatevwr' Was Just A 'Pocket Tweet'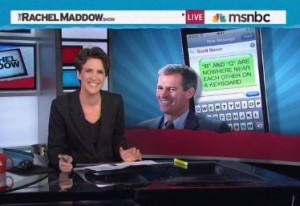 Rachel Maddow ended her show tonight taking on the allegation by former senator Scott Brown that his bizarre tweeting (including the new word "Bqhatevwr") a few weeks ago was not a result of drinking, but just the unfortunate result of pocket-tweeting. But Maddow wasn't buying this response, and actually cited some examples to suggest that whatever led Brown to "Bqhatevwr," it wasn't a pocket tweet.
Maddow teased the segment with a blaring siren to indicate a "bullpucky alert" concerning Brown's explanation. At the end of the show, she returned to the Brown news with the infamous video of Brown joking at his victory speech in 2010 that his two daughters are available to date. Maddow cited the newest poll numbers over the vacated Massachusetts Senate seat before getting around to the latest in the Brown saga.
RELATED: No, Scott Brown Didn't Drunkenly Tweet, He Says He 'Pocket-Tweeted' — Haven't You Ever Done That?
Maddow said that Brown's odd tweets were an early sign last month that he would not be getting into the Senate race, but now he appears to be interested in running for governor, and actually addressed the tweeting during an interview. Brown dismissed it as a "pocket tweet" on his iPhone 5 and a simple "mistake."
Maddow remained skeptical, saying that "Bqhatevwr" looks too much like the word "whatever" to be a simple pocket tweet. She also noted how the "b" and "q" letters are not next to each other on the iPhone keyboard, and cited a piece in New York Magazine saying it's "unlikely" that a pocket tweet would have managed to get both keys pressed.
Watch the video below, courtesy of MSNBC:
—–
Follow Josh Feldman on Twitter: @feldmaniac
Have a tip we should know? tips@mediaite.com
Josh Feldman - Senior Editor