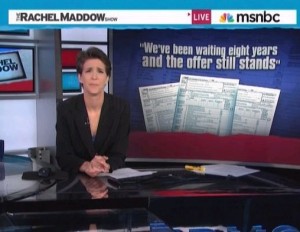 Rachel Maddow took a look into Mitt Romney's political past tonight to explain just how Romney has gone back-and-forth on the issue of releasing tax returns, from his failed 1994 bid to unseat Ted Kennedy to his successful run for Massachusetts governor in 2002 to the current presidential race. She highlighted an offer Romney made in 1994 to release his returns after Kennedy did, an offer which an advisor said was still valid eight years later, and wondered if the offer was still on the table.
RELATED: Rachel Maddow Promises 'Incredible Tape' That Will 'Change Direction' Of Romney Tax Return Story
Maddow highlighted Romney's position in 1994, when he declared that he would release his own tax returns after Kennedy released his. Kennedy did not release his tax returns, and neither did Romney. In 2002, all of Romney's Democratic opponents, including Romney's eventual challenger in the general election, released their returns, but Romney did not. Maddow wondered what changed in eight years that caused Romney to suddenly renege on the idea of releasing tax returns as soon as his opponents do.
During a gubernatorial debate in 2002, Romney laughed off the idea that he had "something to hide" and admitted that when it came to the tax return issue, Kennedy "was right, and I was wrong." He said he eventually came around to Kennedy's way of thinking, but then immediately turned to the husband of his Democratic challenger, pointing out he has not released his tax returns. Maddow tried to wrap her head around the idea that Romney could simultaneously reject the idea of releasing tax returns while implicitly criticizing his opponent's husband for not releasing his.
Maddow highlighted a quote by Romney advisor Eric Fehrnstrom in 2002, after Romney said he would not release his tax returns, in which Fehrnstrom said of the 1994 deal with Kennedy: "We've been waiting eight years and the offer still stands." Maddow tried to make some sense of this logic.
"That was the only condition under which Romney would release his tax returns? His opponent releasing her tax returns wasn't enough, all his Democratic opponents releasing their tax returns wasn't enough, getting caught lying about his tax returns in relation to his Massachusetts residency wasn't enough, but eight years after he ran against Ted Kennedy for Senate, when he was running in a totally different race, to which Ted Kennedy was totally irrelevant, the release of Ted Kennedy's tax returns would be the trigger for Mitt Romney to release his returns? Why?"
Maddow wondered if the offer was still valid now, saying she has received no on-the-record response from the Romney campaign on that question.
Watch the video below, courtesy of MSNBC:

Have a tip we should know? tips@mediaite.com
Josh Feldman - Senior Editor