Rachel Maddow Stunned By GOP Ceasing Voter Registration In Swing States After Fraud Allegations
Maddow Stunned GOP Ceasing Voter Registration After Fraud Allegations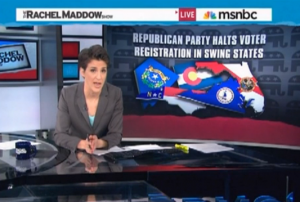 On her show Monday night, Rachel Maddow examined the situation surrounding GOP voter registration efforts, which have ended in five battleground states following questions about registration fraud. Noting the little time left to the register, and the importance of those states, Maddow was in disbelief.
Maddow began by mentioning the five swing states (Nevada, Florida, Colorado, North Carolina, Virginia) in which Republicans have ceased voter registration efforts. "Roughly the opposite of an October surprise," she dubbed it.
With registration deadlines looming, she said, they'd be expected to be doing just the opposite — because "the closer it gets to the end, the more enthusiasm there tends to be." So what's the reason? The firm they hired for voter outreach, which the GOP has fired following fraud allegations. And there's no plan B.
Maddow called it "remarkable," noting that Republicans knew they were putting all their eggs in a "relatively troubled basket." In the past, the same company, under a different name, was accused of destroying Democratic voter registration forms. At least the RNC had the "good sense" to ask for a name change when hiring the same firm again, she quipped.
Then, Maddow went through a brief rundown of the various allegations made about voter registration fraud in those states where such efforts are now no more. The danger is less so with those who make up fake people in order to up their registration quota, she said. The real trouble comes when a person registers, but the canvasser destroys the form based on party affiliation — and then on election day, that person, who believes he or she has registered, is not on the rolls and therefore cannot vote.
"And the collapse of the Republicans' voter registration scheme has resulted in the Republican Party ceasing all voter registration efforts in five of the swingiest swing states in the country," Maddow said. Reiterating again just how "remarkable" that is.
The segment below, via MSNBC:

Have a tip we should know? tips@mediaite.com