Rachel Maddow Mocks Fox News' Coverage Of Gingrich Vs. Romney In 'Murdoch Primary'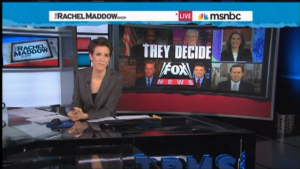 On Thursday's show, MSNBC's Rachel Maddow took a look at The Right Fights Back, Politico's "tell-all" book about the current crop of presidential candidates. Such revelations include the fact that Mitt Romney pulls the cheese off his pizza, Rick Perry's taste in Hollywood actresses, and Newt Gingrich's hardships.
RELATED: Campaign Secrets: Mitt Romney Peels The Cheese Off His Pizza, Rick Perry Prefers Jen Aniston To Angelina Jolie
Maddow then recounted the British press' role (specifically, Rupert Murdoch's role) in Tony Blair's political success, a phenomenon she and others refer to today as "The Murdoch Primary." Here in the U.S., she said, we have a similar phenomenon occurring with other media properties owned by Murdoch, including The Wall Street Journal and, of course, Fox News Channel.
Fox News is an unrivaled success here in broadcast media. And part of their incomparable success is due to the fact that they tell their viewers "don't trust anybody else." Right? This is a technique that was essentially pioneered by Rush Limbaugh , and then all of his imitators in right-wing talk radio — which is not only to just attract conservative listeners and conservative viewers by promoting conservative viewpoints, but ensure that those listeners and viewers never change the channel, that they pay attention exclusively to you because on your channel, you deride and essentially wage war on all other media sources that might be an alternative to you. You deride in particular "the mainstream media."
"That's where the whole Fox News 'fair and balanced' thing comes from," she added. "It's a strategic business model."
So who is winning the so-called "Murdoch Primary" in the U.S.? Maddow noted that many "contenders" for the GOP presidential race essentially auditioned for Murdoch and Fox News' Roger Ailes as paid Fox News contributors.
Maddow noted that many conservatives not associated with Fox News — her MSNBC colleague Joe Scarborough among them — have been doling out quite a bit of criticism towards one candidate: Newt Gingrich. And, yet, she adds, Fox News seems to be one place where one won't find too much (although it does exist) harsh criticism of Gingrich, a former employee of the network.
RELATED: Joe Scarborough On Gingrich: 'This Guy Is Not Fit To Be President Of The United States'
On the other side of the coin, she continues, is the fact that Fox News has not seemed overly fond of the candidate most narratives have pegged as "the one to beat." In fact, she says, The Daily Beast has a story on how Tim Pawlenty had approached Fox News for a gig, only to encounter an obstacle: He'd been on the verge of endorsing Mitt Romney.
Maddow also found it interesting that Fox News' Bret Baier had gone on another Fox show to discuss Romney's behavior after their interview.
RELATED: Bret Baier To O'Reilly: Mitt Romney Thought My Interview Was 'Overly Aggressive'
What do you think of Maddow's theory? Have any of you – particularly the Romney supporters among us – noticed something less-than-fair-and-balanced about Fox News' election coverage? And have you noticed anything similar at MSNBC or another network?
Have a look at the segment, from MSNBC:

,
Have a tip we should know? tips@mediaite.com