Rachel Maddow: Tea Party Convention Canceled Because It Conflicted With People's Summer Vacations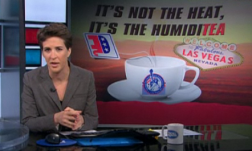 Remember the Tea Party? For months there they were the star attraction in the media's persistent drive to cover the national political scene. Now it seems they are having problems mustering enough clout to convince party goers to hold a second national Tea Party convention. Apparently one was planned for Las Vegas in July and now, according to Rachel Maddow, its producers have canceled it because it is hot in Las Vegas in July. Is that the only problem? Maddow speculates otherwise.
Last night, Maddow called the last year in Conservative politics the greatest show on earth:
Sarah Palin quit as Alaska governor to cash in and become a full-time celebrity…John McCain abandoned almost all of his long-held, notable, policy positions because of a primary challenge from a talk show host…[Conservatives] came out against the Civil Rights Act, they came out against Social Security, they came out against soccer, they came out against Thurgood Marshall…it has been a spectacular year and a half of Conservative politics in this country.
Maddow speculates however that the media found it easiest (including Maddow herself, it should be noted) to focus on "one small part of this greatest show on earth," namely the Tea Party movement, and as a result has overblown their significance. So much so, that while they were headline news in reality they are unable to muster the support to hold a convention in the summer after people were forced to "choose between their vacation and the convention." ("Don't tread on my convention!") It has since been rescheduled for October. Watch below.
Have a tip we should know? tips@mediaite.com