Rachel Maddow Tears Apart Benghazi Outrage In Epic Segment On GOP Conspiracy-Mongering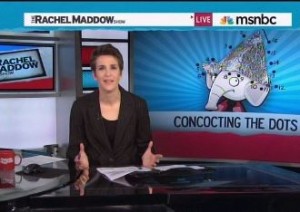 Rachel Maddow tonight tore into Republican outrage over Benghazi as the latest example of conservative conspiracy theories seeping in the mainstream, after conspiracies about the Boston bombing and the government stockpiling bullets made their way to the halls of Congress. Maddow said the GOP is trying to sell Benghazi as perhaps the biggest Obama administration conspiracy theory to date, spending more time on this than anything else, and mocking the idea that there is a Benghazi cover-up so big, it will force Obama to resign.
RELATED: Maddow Tears Into Right-Wing Media For 'Full-On Embracing The Conspiracy Theorists' (Alex Jones) After Bombing
Maddow started out with the strange story of a conservative group calling for President Obama's impeachment for deliberately tanking the stock market. This was sent out yesterday, when the market hit an all-time high. Maddow reminded viewers of other fun conspiracies, including birtherism and WorldNetDaily's weird obsession with claiming that Obama is gay. But "the market for this stuff does not stop at the fringe," as she pointed out, because some Republicans in Congress are now embracing conspiracy theories.
Maddow credited conservative radio host Laura Ingraham for actually confronting Senator James Inhofe on his theory that the government is stockpiling weapons in order to undermine people's Second Amendment rights. Maddow pointed out Inhofe has actually proposed legislation based on his conspiracy theory, and that fellow Oklahoman Tom Coburn proposed a federal gun registry before withdrawing it after being asked why he suddenly wants to start tracking guns.
Maddow declared that every single event that happens in the country these days comes with its own unique Obama conspiracy, including conspiracies about the Boston bombing ranging from the Alex Jones-borne "false flag" theory to Glenn Beck's theory on the Saudi student who was questioned and then released during the investigation.
Which brought Maddow to Benghazi. She slammed House Republicans for trying to make this their latest conspiracy-driven witch hunt, claiming that "this investigation is perhaps the most organized, concerted effort that House Republicans have made on anything in Congress since they took control of the House." Maddow played audio of Mike Huckabee declaring there to be an obvious conspiracy at play, and it will lead to Obama's resignation. Maddow mockingly concluded, "If you say Benghazi enough, if you teach enough people who only type with the Caps Lock key on Twitter to spell Benghazi… then eventually President Obama will be impeached. Or resign."
Watch the video below, courtesy of MSNBC:

—–
Follow Josh Feldman on Twitter: @feldmaniac
Have a tip we should know? tips@mediaite.com
Josh Feldman - Senior Editor