Rachel Maddow Tears Into Fox News And The GOP: The Right Has A 'Nonsense Problem'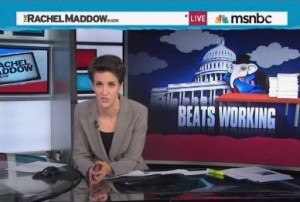 Rachel Maddow tonight went after Fox News for jumping the smoking gun on the IRS scandal, and the Republican party for being too focused on their personal concerns over ACORN and Obamacare to pursue actual policy. Even though people may view people like Rush Limbaugh and Bill O'Reilly as GOP leaders, Maddow said the party needs to be more concerned with policy than the media it embraces, declaring the right to have a "nonsense problem" and the GOP to be "unsuited for policy at this time."
RELATED: Maddow's Blistering Critique Of The GOP: Moderates Like Bob Dole Now 'Anathema' To The Party
Maddow brought up how Fox News (but mostly O'Reilly) is now pouncing on a report that former IRS commissioner Douglas Shulman visited the White House 157 times during his term, immediately lumping it in with other smoking guns conservatives have touted as the one thing that would finally topple Obama's house of cards. Maddow explained how the report was debunked, and yet O'Reilly continues to report on it as if it was never corrected. Maddow even mockingly suggested O'Reilly was too busy watching videos of marching penguins to notice the new information.
Maddow noted that in a report released about the GOP's youth voter outreach, when people were asked about who they think the Republican leaders are, they identified people like O'Reilly and Limbaugh and Glenn Beck. She linked this to how actual Republican leaders in Congress seem more gung-ho about things like defunding ACORN (which doesn't exist anymore) and repealing Obamacare rather than focusing on actual policy.
Maddow said it's hard to predict what will happen when Republicans are forced to talk about "real things," citing Mitch McConnell linking Obamacare to rising student loan rates.
"The Republican party has a nonsense problem when it comes to policy, and it comes right from the top. If you do not like policy, that's fine… but in Washington, the fact that one of the two parties is just unsuited for policy at this time–it is not their strong suit–that right now is a problem."
Watch the video below, courtesy of MSNBC:

—–
Follow Josh Feldman on Twitter: @feldmaniac
Have a tip we should know? tips@mediaite.com
Josh Feldman - Senior Editor