Rachel Maddow Tears Into GOP Over Infighting: They're 'At Each Other's Throats,' 'Engulfed In Flames'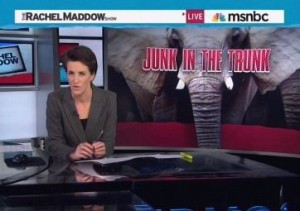 Every political party goes through some soul-searching after losing a presidential election, but Rachel Maddow found the current state of the Republican party following the 2012 election to be particularly contentious and "engulfed in flames." She ran through a list of fight after fight between Republicans and conservatives over everything since the election from the Tea Party to Chuck Hagel to whether or not they have become the "stupid party." Maddow wanted to know if anyone is even attempting to take charge of the GOP's sinking ship.
RELATED: Rachel Maddow Takes On CPAC: Shows The State Of Conservative Movement
Maddow brought up schisms among a number of Tea Party groups, from the Dick Armey-FreedomWorks feud to the more recent news of people being let go from the Koch-funded Americans for prosperity. She explained how even a few weeks removed from Karl Rove creating a new group to help electable Republicans in tough primaries, Tea Party groups are still holding grudges, culminating in one group mocking up Rove as a Nazi.
Maddow also found it interesting that Newt Gingrich, of all people, would be critical of Rove over this, given that his campaign was practically fueled on the money of Sheldon Adelson. She said that Republicans and conservatives are right now "at each other's throats," with no clear idea of who the leader of the party is. Maddow pointed out that Republicans are still okay with two prominent members of their party giving two different responses to the State of the Union.
Electorally, Mitch McConnell may be challenged not only by Ashley Judd, but by a Tea Party challenger. Bobby Jindal said Republicans need to stop being the "stupid party." In Massachusetts, the GOP may not find a candidate in time for the special election. And on top of all that, Maddow said the Republican party is now actually taking action based on works of satire.
Maddow asked, "What's going on with [the] Republican party right now? Who is in charge?… Who is trying to right this ship?" Predicting that Mitt Romney will not exactly be that well-received at CPAC next month, Maddow concluded by saying that the GOP has gone farther than simple soul-searching and the party is "engulfed in flames."
Watch the video below, courtesy of MSNBC:
—–
Follow Josh Feldman on Twitter: @feldmaniac
Have a tip we should know? tips@mediaite.com
Josh Feldman - Senior Editor