Rachel Maddow Tears Into Karl Rove-Funded Anti-Obama Ads: 'Gold-Plated Campaign Bullpucky'
Maddow Tears Into Karl Rove-Funded Anti-Obama Ads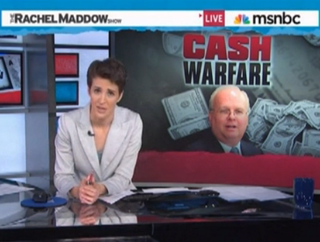 With the 2012 elections looming, the media has dedicated much of its time these past few weeks to figuring out the ultimate Republican field to challenge President Obama. On her program today, Rachel Maddow warned that to worry too much about who would actually end up on the ballot would be dropping the ball, because it was the financial infrastructure behind the Republican Party, led by Karl Rove, that would be doing the heavy lifting, and has already begun to do so.
RELATED: Karl Rove On Rick Perry: 'I Didn't Realize I Was Under His Personal Care'
Whoever the President ends up debating after the primaries end, Maddow argued that "Barack Obama is running against Karl Rove," and the "quarter of a million dollars" his SuperPAC already has in the kitty to go to war with. The money is already circulating, as Maddow aired an ad that accused the President– through the voice of a CNN reporter– of betraying the American people by raising taxes. The part of that CNN report the ad doesn't show is what those taxes were for. The ad, Maddow joked, appeared "cut and pasted as if it were refrigerator poetry," and had excluded the part of the report that explained the President wanted to "pay for his tax plan by taxing corporate jets." "It is gold-plated campaign bullpucky," Maddow concluded, and "if I were that CNN reporter, I might sue for being used like that."
RELATED: Rove: Rick Perry's Campaign Will Have To Deal With 'Toxic' Ideas Expressed In Book
Maddow concluded that this was only the beginning of a long 13 months where the aftermath of Citizens United would mean the President would face an extraordinary amount of money used to attack him– no matter who won the election in the end.
The segment via MSNBC below:
Have a tip we should know? tips@mediaite.com