Rachel Maddow Tears Into Romney's Foreign Policy Approach: He Doesn't Even Care Enough To Try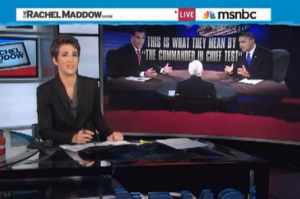 On her show Tuesday night, Rachel Maddow tore in Mitt Romney and his campaign following last night's foreign policy debate. It's not just about disagreeing with the politics, she said. The problem is that they don't seem to care enough to try to get it right.
The Republican party has nominated someone who "just doesn't seem to take this part of being president seriously," Maddow said. He doesn't seem to care much, she said, nor does he seem to think Americans care. Maddow went on to note that some of his foreign policy advisers told The New York Times they wonder if he reads their briefings.
Specifically turning to last night's debate, Maddow pointed to Romney's saying that Syria is Iran's "route to the sea." The countries don't touch, she noted. And Iran has sea access. But it's not just a flub, Maddow argued, because he's said this repeatedly. "Bother to look at a map," she said. "There's an ocean below Iran, it's blue. Have you heard of the Persian Gulf? Do you know what Persia means?"
The "new thing," Maddow said, is not bothering to get things right. Referring to the "historic disaster" that was the Bush era, Maddow further railed against Romney for bringing on the same "whirlwind" of advisers.
It's a good thing that the last word we got to hear was about foreign policy, Maddow asserted. Regardless of politics, Maddow added, "the problem here is that the Republican party has run a ticket for president that seems to think this does not matter. They don't even care enough to try on the subject."
The commander-in-chief test everyone talks about? It's a real thing.
"You don't get to opt out," Maddow said. "And if you're going to try, you cannot just hope that we don't notice, even two weeks out."
Take a look, via MSNBC:

Have a tip we should know? tips@mediaite.com