Rachel Maddow Tells Jon Stewart Her Book Is Not 'Left-Right': 'It Turns Out Everybody Sucks'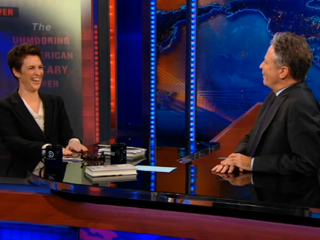 Rachel Maddow's new book, Drift, recently hit stores and has her out and about describing the process of writing her book and how she came to the conclusions she did. Maddow spoke to Jon Stewart on Thursday night, explaining how she didn't think she was a particularly good writer and didn't want to peddle conspiracies, but had a passion for the topic and found it amazing how a series of "understandable frustrations" led to such a large expansion of military power.

RELATED: Fox's Roger Ailes Writes Blurb For Rachel Maddow Book: 'A Book Worth Reading'
Stewart teased Maddow that her book was written so thoroughly "it's making us all look bad," though she downplayed her skills. "I hate writing, I'm slow at it, I don't think I'm very good at it, but please read the book!" she told him. In her explanation of it, she argued that "we're a country that sent the military to war, and the military fought the wars and we weren't invested in them and we didn't sacrifice for it and we didn't feel it," something she argued "ought to make us want to change the way we are as a country." She made it clear that the title of the book was so that people didn't "think it was a conspiracy" to amass power, but rather, "reasonable decisions made by politicians who have understandable frustrations" that led to skirting around Congress, the media, and the American people. Stewart called these "lies," and jokingly rebuked her for not "know[ing] how to sell books." "Conspiracy is easier to understand than complexity," she noted.
For someone known for running such a left-wing program, Stewart noted that the book was not particularly partisan in any conventional way, which Maddow replied was intentional, because the growth of the military-industrial complex was not a left/right issue: "it turns out everybody sucks!" She had no foolproof solutions, since "I don't think we can ever expect presidents to give back power that they have, I just don't think humans do that," but she did hope that Congress put up a fight to take back their constitutional powers.
The interview via Comedy Central below:

Have a tip we should know? tips@mediaite.com