Rachel Maddow Thanks Laura Ingraham For Helping Her Book Gov. Bob McDonnell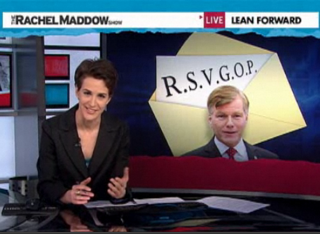 Rachel Maddow has spent much of her show trying to book Republicans to come on and debate her about various issues, but she has had quite a bit of trouble– moreso after her contentious 2010 interview with then senatorial candidate Rand Paul. This week, however, she received what she called a "glimmer of hope" from the unlikeliest of people: Laura Ingraham, who told Virginia governor Bob McDonnell that she would love to see more Republicans talk to Maddow, and if not convince her of their ideology, at least spread the word.
RELATED: Rachel Maddow Attempts To Ambush Jon Huntsman At New Hampshire Event
Ingraham noted of Ronald Reagan this week, in an interview with McDonnell, "there wasn't a place he wouldn't go to argue the conservative message, and advocate for conservative principles." She added that conservatives have "real problems" if they are unable to talk to Maddow, and the governor then asked Ingraham for help in setting up the interview. "I'll send her a note," Ingraham replied, and Maddow confirmed that she, in fact, did. Thanking Ingraham and repeating several times how excited she was about the possibility of doing the interview, she wanted to make sure that it happened. "So we're all above board and there is no suspicion of an ambush," she told McDonnell, "I want you to know: here is what I've been saying on television without you." She then played a montage of criticisms that she had leveled at McDonnell on the program.
I could not be more excited," she repeated afterwards, telling the governor that she would like to set up the interview for next week, so this story is still developing. "I'll have my people call your people, or whatever?" Maddow concluded.
The segment via MSNBC below:

Have a tip we should know? tips@mediaite.com