Rachel Maddow: There Is A 'Whole Swath' On The Right That Thinks McCarthyism Is A Good Thing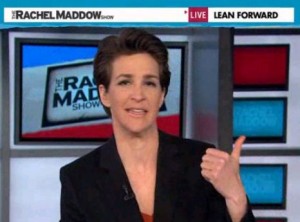 A piece in The New Yorker today holds the title "Is Senator Ted Cruz Our New McCarthy?" This is following Cruz's allegations of possible ties Defense Secretary nominee Chuck Hagel has to radical anti-American groups, and the piece alleges Cruz claimed knowledge of communists at Harvard University. Tonight Rachel Maddow deconstructed exactly what makes Cruz so much like Joe McCarthy, the man infamously known for his witch hunt against communists in the United States government.
RELATED: Is Sen. Ted Cruz 'The New McCarthy'? Report Says He Accused Harvard Law Faculty Of Harboring 'Communists'
Maddow first highlighted how Defense Secretary Leon Panetta is still going on foreign trips, after a series of farewells, due to Republicans in the Senate holding up the Hagel nomination. Maddow made it clear Hagel will almost certainly get enough votes to pass the Senate, and "he cannot be filibustered forever," but she found it odd just what kind of "unusual lengths" Republicans are going to in order to hold up his nomination.
Maddow cited a new reason senators have provided for holding up Hagel: some writer somewhere claimed to have heard Hagel say something at some meeting seven years ago, and in spite of him not actually quoting what Hagel said, this is enough to apparently warrant an investigation by the U.S. senate. Maddow also ran a clip of Stephen Colbert deconstructing the ridiculous "Friends of Hamas" claim being tossed around in conservative circles.
Maddow then got around to Cruz saying that Hagel may have received money from speaking to extremist, anti-American organizations, in spite of the fact that he has no proof to actually back this up. Maddow said Cruz's tactics are pure McCarthyism, because he was known for making "oddly specific allegations" that were not supplanted by any evidence, but that he demanded people deny, and because the allegations were that incredibly specific, people just assumed the accuser had some proof to back up their remarks.
After showing a relevant clip from The Manchurian Candidate, Maddow highlighted how Cruz's home state of Texas attempted to change the textbooks to make McCarthy less of a negative figure in American history. Maddow drew some conclusions from this rather striking attempt to rewrite history.
"There is a whole swath of the American right that has decided McCarthyism should no longer be seen as a bad thing. And that may be why the whole 'Friends of Hamas' allegation, and the 'answer what this blogger said about you six years ago' argument, and the Ted Cruz 'How do we know you didn't get $200,000 from North Korea?' allegation might not seem that crazy to the conservatives who are making those arguments."
Maddow then brought up Cruz's comment from a few years ago that there were more self-identified communists when he was at Harvard than Republicans; twelve to be exact. Maddow found it interesting that once again, someone has come up with a "really specific number" of communists he is aware of.
Watch the video below, courtesy of MSNBC:
—–
Follow Josh Feldman on Twitter: @feldmaniac
Have a tip we should know? tips@mediaite.com
Josh Feldman - Senior Editor