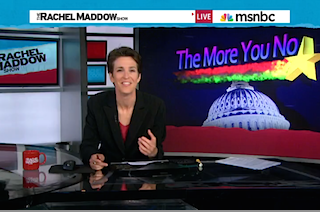 If House Republicans are going to go through with their lawsuit against President Barack Obama, as they voted to do yesterday, then Democrats have figured they might as well make the whole thing reflect as poorly as possible on the GOP. That was the perspective a practically giddy Rachel Maddow put forward on her MSNBC show last night, laying out just how much she believes the lawsuit will help Democrats this fall.
During a hearing by the House Rules Committee Thursday, Maddow said "Of course Republicans decided 'yes we should vote on that. Of course we should totally be suing the president.'" And even though the Democrats knew they would lose the committee vote, they decided to go "amendment-crazy," forcing Republicans to admit publicly that they do not want the American people to know how much taxpayer money is being spent on the suit and then they plan to hire law firm that employ lobbyists.
As expected, Republicans dutifully used their majority to shoot those amendments down.
"So, to recap, Republicans unanimously voted not to tell you how much they're spending to sue the president, to allow themselves to hire lawyers whose firms lobby them and to allow that those lawyers might make money from the thing they are suing the president over," Maddow said.
"Republicans decided themselves that they wanted to sue the president in an election year," she continued. "But the people who seem to most love that the Republicans are suing President Obama in an election year are the Democrats. It's the Democrats who want the Republicans to be talking about this all the time in great detail about how they're spending taxpayer money on law firms to sue President Obama."
While Republicans are getting "shier and shier" about their decision to sue the president, it's Democrats who are making it "front page news."
Watch video below, via MSNBC:
[h/t Raw Story]
[Photo via screengrab]
— —
>> Follow Matt Wilstein (@TheMattWilstein) on Twitter
Have a tip we should know? [email protected]