Rachel Maddow To Jimmy Fallon: I Never Thought Santorum Could Do Well In NH, 'I Mean… Google Him'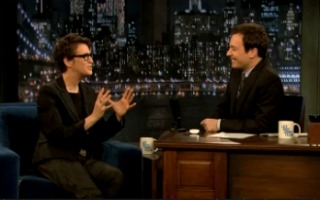 Rachel Maddow, you guys? She's kind of weird. And I say that with no ill-feeling in my heart towards Maddow. (There are, indeed, only two cable news hosts I'd like to smack in the face, hard, with a filet of tuna, and one of them happens to be firmly nestled on my end of the political spectrum. But he's just the worst.)
Maddow finds Christmas stressful (BECAUSE SHE'S A COMMUNIST), so she took a break from her family's holiday festivities to go out fishing alone. But because she doesn't have a license to fish in Maine, she decided to "pretend fish" using a piece of yarn. That's silly! You're silly, Rachel Maddow. Deal with stress the normal way and consume an entire fruitcake in the shower while crying, like the rest of us.
Also, I wish our staff had gotten matching sneakers for Christmas, like Maddows' co-workers did. Hell, even Crocs incorrectly advertising "Mediate" would've done the trick:
In the second part of the interview, Maddow discussed "rocking out with our caucus out," noting that The Republicans "kind of seem to hate" Mitt Romney. However, she would definitely love to see a debate between Rick Santorum and Barack Obama, particularly if they talk about birth control, abortion and social security — the issues that make you want to consume an entire fruitcake in the show while crying.
She also thought it silly that Rick Perry would "almost" drop out of the race after the Iowa caucus because, ultimately, "Iowa means nothing."
But don't ask her who'll be the winner, because she's among those who thought anyone but Santorum could get manage a bump in support from New Hampshire voters. "I mean… Google him." (Don't.)
Check out the rest of her interview, from NBC:
Have a tip we should know? tips@mediaite.com