Rachel Maddow To Jon Stewart: Justice Scalia Is A 'Troll Who Loves To Make People Mad'
Maddow To Jon Stewart: Justice Scalia Is A 'Troll Who Loves To Make People Mad'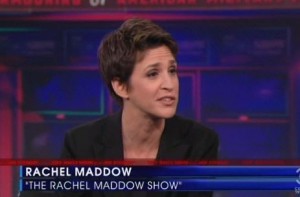 Rachel Maddow sat down with Jon Stewart to talk about her experience sitting in the Supreme Court this week during hearings over the Voting Rights Act. Maddow shared details of what it's like to be in the court to hear the arguments, telling Stewart that Justice Antonin Scalia loves to "troll" with his deliberately provocative statements, and Justice Sonia Sotomayor subtly pushes back against him when she gets the chance.
Maddow found it crazy how the Supreme Court is seriously considering scaling back monumental civil rights law, emphasizing its importance and relevance in modern America. She remarked how interesting it is to see the justices in person, remarking that Scalia is a "weird" presence.
RELATED: Rachel Maddow Tells Jon Stewart Her Book Is Not 'Left-Right': 'It Turns Out Everybody Sucks'
Maddow said that Scalia apparently thinks voting is now a "racial entitlement," but he only says things like this because he's a "troll" and loves to hear his comments elicit gasps. She added that Sotomayor appears to relish the opportunity to "give him what for," because he's just a "troll who loves to make people mad."
Stewart couldn't fathom why important legislation like the Voting Rights Act and the Violence Against Women Act have to be revisited and renewed every few years. Maddow said that none of this is a new problem, explaining that as democracy expands the country can address new problems like voting rights and violence against women, and made it clear that should not expire. Stewart dryly remarked that the thought process must be "it's worked so well," so let's get rid of it.
Watch the video below, courtesy of Comedy Central:
—–
Follow Josh Feldman on Twitter: @feldmaniac
Have a tip we should know? tips@mediaite.com
Josh Feldman - Senior Editor