Rachel Maddow Visits The Tonight Show, Observes A 'Twinkling' Between Romney And Paul Ryan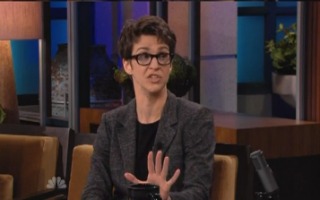 MSNBC host Rachel Maddow stopped The Tonight Show Tuesday night to promote her new book, Drift, but not before tackling some of the big talking points of the day. Host Jay Leno asked Maddow about Rick Santorum's announcement that he was suspending his campaign, which prompted Maddow to observe that it "makes you take the big picture view of the campaign," noting that, if she'd said that, at the end of the race, Newt Gingrich and Ron Paul would be the last candidates standing against Mitt Romney after Santorum, "you would've told me I was crazy."
As for the "gender gap" issue hanging over Republicans, Maddow believes that trying to cater to a specific demographic through a strategic VP choice won't work, but that candidates can always try delivering a certain message themselves, as Romney is. "It's gonna be a white guy from somewhere," said Leno of Romney's future running-mate.
Maddow responded that there was a "twinkling" between Romney and Paul Ryan, calling the two a "match made in heaven."
RELATED: Rachel Maddow Tells Jon Stewart Her Book Is Not 'Left-Right': 'It Turns Out Everybody Sucks'
Leno later asked why Gingrich is still in this race, commenting that his previous marriages may have worked out had he shown as much commitment to those as he has to this primary race.
Moving back to Romney, Leno asked Maddow whether the race could turn "ugly" in terms of Romney's Mormon faith, which caused her to note that this criticism has so far come from the Evangelical right, and not from Democrats.
As for her book, Maddow noted that it isn't a "liberal / conservative" look at war, but a look into the politics of war, particularly into the disconnect that occurs on the home front when, say, private contractors are hired to take over aspects of fighting overseas.
Have a look, via NBC:
Have a tip we should know? tips@mediaite.com