Rachel Maddow: Want Evidence Romney/Ryan Win Isn't Sure Bet? Look Back At Sarah Palin.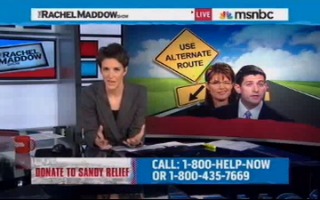 On Friday, MSNBC's Rachel Maddow turned her attention to campaigns' tendency to bluff, in a manner of speaking, about their chances of winning.
She recounted how, in past elections, the Republican candidate (including Bush, Sr; Dole; Bush, Jr.; and McCain) has traveled to the decidedly blue state of Pennsylvania over the last few days of their campaigns, lending to the impression that they're so confident of a win that they have the time and effort to spare on a state that is, historically, not a sure bet.
She explains:
The reason they do this every year is because they want to be seen as super confident. They want to be seen as so confident they are expanding the map. They want to create the impression that, not only are they going to win, they're going to win big. So they don't even need to go to any of these so-called battleground states anymore; they've locked all of those up. They've already got the meat and potatoes; they're going for gravy. They're going to start going to exotic states that nobody thinks they're going to win because they're going to win those states, too. It's going to be a landslide.

It's trash talk, right? You can understand why they are doing this, but there's no reason to pretend that it is unprecedented and there's no reason just to write down the spin instead of checking the facts about whether their argument actually makes sense.

Checking the facts is very easy to do. Look at the polling in Pennsylvania. There have been two dozen polls in Pennsylvania since August first. Of those two dozen polls, of those 24 polls, how many does President Obama lead in? Twenty-four of the 24. Every single one.
Maddow went on to list what she views as indications that the Romney ticket might not be so confident of a win after all. First, there's the fact that, while Romney is indeed making a trip to Pennsylvania, he's also making sure to visit other states in this final lap, including Ohio, Wisconsin, New Hampshire, Iowa, Colorado, Florida and Virgina. That means, Maddow said, that "the map is not expanding," that the Romney campaign cannot afford to move on to more "exotic states" and away from those that are sure bets.
The second point requires a look back at recent history — specifically, at Sarah Palin. One week before the 2008 election, Palin's supporters leaked her plans for the future — a future that allowed for the reality that she might not be a second in command to a successful President McCain. And, now, as we head into the final stretch before this year's election, Ryan's supporters have undergone a similar move, with an AP story detailing what the future may hold for Ryan — a future that doesn't include being Romney's VP. "Ryan's biggest boosters," the article says, believe he can write his own ticket and that he has what it takes to be a leading contender in 2016, particularly if he resigns from the House and, instead, writes a book or elects to teach at a university.
Have a look at the segment, via MSNBC:
Have a tip we should know? tips@mediaite.com