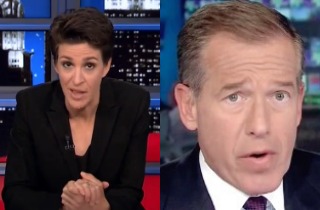 Towards the end of her Thursday night show, Rachel Maddow decided to take a moment to comment on the NBC's announcement that Brian Williams would be heading breaking news on MSNBC.
Maddow said that ever since Williams was suspended for falsifying the details of his reporting experiences, she and the rest of MSNBC have been following the news like everyone else, waiting to find out about William's ultimate fate. Maddow assured viewers that "nobody at this company asked me to make this statement," saying that her talking about it might already be drawing the ire of those in the building. "As viewers of this show," said Maddow, "I want you to always be able to trust me, both to tell you what I know, but also, to tell you what I think, and so, I want to tell you what I think about this."
Getting right down to it, Maddow said that she was "really happy" with Williams' return. "He wants to work his way back to earning people's trust again," said Maddow. "I think that's exactly the way that earning second chances should work." Maddow said that doing so was not meant to excuse Williams for his wrongdoings, but instead, offer him a chance to earn redemption.
The second reason Maddow gave for her excitement was that Williams' new role would allow him handle breaking news for MSNBC. "Despite everything that has happened and come to light in the last few months," said Maddow, "Brian Williams has tremendous experience, and, just, sheer capability of on-air handling of breaking news." Maddow reiterated that these were "extraordinary circumstances", but finished off by saying "I believe in redemption. I believe in second chances."
NBC said today that Williams' experience with MSNBC will give him a chance to rebuild his career as a journalist earn back the trust of viewers. Williams himself gave a statement of his own today where he acknowledged the loss of faith from the journalism community, and his hopes to use this new role to examine serious issues.
You can watch the video here, via MSNBC:
[Image via Screengrab]
— —
>> Follow Ken Meyer (@KenMeyer91) on Twitter
Have a tip we should know? tips@mediaite.com