Rachel Maddow: Why Mock Moderates When The Tea Party Are The 'Least Respected' Group In America?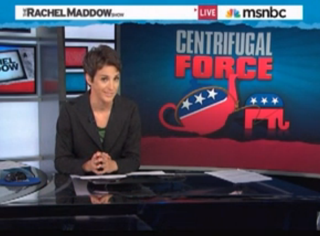 It's not exactly news that Rachel Maddow is not a huge fan of the Tea Party's political views, but on her program tonight she noted that she may not be alone. In fact, recent polls show, she argued, that the Tea Party was among the "lead popular of any type of political group in America." While the numbers may be shocking, to Maddow there was a bigger question than why this is true: why are moderates like Jon Huntsman and George Pataki considered punchlines in this climate?
Before presenting the numbers, Maddow put together a short history of the Tea Party in the past year or so that reflected the change. She noted that several Tea Party candidates– among them Sharron Angle, Christine O'Donnell, and Linda McMahon— had defeated Republicans and ultimately lost. In preparation for the 2012 races, however, those who may have otherwise put up such Tea Party challenges seem to be backing down, particularly Utah Rep. Jason Chaffetz, who had floated around the idea of challenging conservative Sen. Orrin Hatch for the Republican nomination. "It just doesn't seem like the Tea Party phenomenon that drove all of last year's politics is driving them now, at least on the state level," Maddow argued.
That led to a look at national popularity, where a recent poll showed the Tea Party was "the single least respected, least liked group" among a large number of potential political blocks that included atheists, Muslims, and other identifiers. With this in mind, Maddow turned to the Presidential election, where Tea Party candidates were touted as the most viable, while "the big joke was that George Pataki is about to announce that he is running for President"– this while Huntsman polls somewhere around 1%. It wasn't even so much of a joke, Maddow argued, but rather "so transparently hilarious that it alone with no explanation elicits laughter."
By way of explanation, Maddow pondered whether it was possible that the response to the Tea Party from the Republicans was a response to a "fear factor" from such a new phenomenon. "Politicians are scared of the Tea Party because the Tea Party is such a new thing." But even that, Maddow concluded, was an inadequate explanation, as the views of the Tea Party, perhaps more in theory than by name, were as old as the conservative movement itself.
The segment via MSNBC below:

Have a tip we should know? tips@mediaite.com