Rachel Maddow: Will IRS Targeting Scandal Forever 'Neuter' Agency From Being Able To Do Its Job?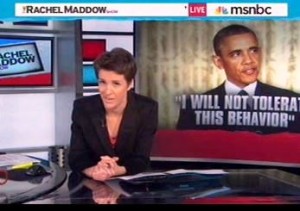 Rachel Maddow tonight recapped the latest developments in the burgeoning IRS scandal. Maddow claimed that the Benghazi scandal more or less went away today (presumably referring to the 100 pages of documents released by the White House), but said this is only just the beginning of the scandal involving the tax-collecting agency targeting conservative groups in the past few years. Maddow wondered if the political fallout from this scandal will end up neutering the IRS from being able to carry out its duties of making sure overtly political groups do not qualify for tax-exempt status.
RELATED: CNN Exclusive: Two 'Rogue' IRS Employees Blamed For Tea Party Targeting Scandal
Maddow first shared a fun moment from the Eric Holder hearings today involving a small toddler before getting to Obama's "surprise, blunt, late-afternoon announcement" in which he made public the resignation of the acting IRS commissioner She explained how there are currently a number of federal investigations into the IRS, making this the newest focus of Republicans targeting the Obama administration.
Maddow highlighted new details of the case, including that the IRS quickly approved obviously liberal groups, and said that this is an important function of the IRS, but it "can't be done in an ideologically slanted way." She pointed out that the current scrutiny on the IRS may have the consequence of limiting their ability to actually do their jobs.
"As this works out politically, does this mean that the IRS is hereby forever neutered from doing what is, after all, the very important work of making sure that political fundraising groups are not making a laughingstock of the rules that are supposed to limit what they do? Will we ever really have an IRS doing that important work again, giving how badly they screwed up trying to do it over these past couple of years?"
Watch the video below, courtesy of MSNBC:
—–
Follow Josh Feldman on Twitter: @feldmaniac
Have a tip we should know? tips@mediaite.com
Josh Feldman - Senior Editor