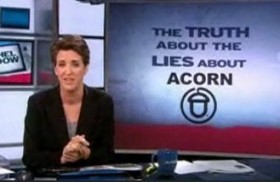 ACORN is not popular these days. But Rachel Maddow doesn't give a damn, because she thinks ACORN got screwed — by the self-reinforcing Conservative echo chamber, and by a credulous, lazy media.
Last night she had on Professor Peter Dreier, a politics professor at Occidental College to discuss his recent report: "Manipulating the Public Agenda: Why ACORN Was in the News, and What the News Got Wrong" which details how "opinion entrepreneurs" planted the seeds of the story, which were picked up by the echo chamber, blown up by McCain-Palin and then Glenn Beck, et voilà. The full report is here — it's 61 pages, and wow is it data-rich. Maddow promised to devote a lot of time to it in the future, and she'll have the material. (I have not read the full report, but I have read the executive summary, which is here.)
Here's Maddow's segment on the report; I've got some choice quotes from it below.
"Although ACORN is involved in many community activities around the country, including efforts to improve housing, wages, access to credit, and public education, the dominant story frame about ACORN was "voter fraud." The "voter fraud" frame appeared in 55% of the 647 news stories about the community organization in 15 mainstream news organizations during 2007 and 2008. The news media stories about ACORN were overwhelmingly negative, reporting allegations by Republicans and conservatives."
"The media also failed to distinguish allegations of voter registration problems from allegations of actual voting irregularities. They also failed to distinguish between allegations of wrongdoing and actual wrongdoing. For example:
82.8% of the stories about ACORN's alleged involvement in voter fraud failed to mention that actual voter fraud is very rare (only 17.2% did mention it)
80.3% of the stories about ACORN's alleged involvement in voter fraud failed to mention that ACORN was reporting registration irregularities to authorities, as required to do by law"
85.1% of the stories about ACORN's alleged involvement in voter fraud failed to note that ACORN was acting to stop incidents of registration problems by its (mostly temporary) employees when it became aware of these problems
95.8% of the stories about ACORN's alleged involvement in voter fraud failed to provide deeper context, especially efforts by Republican Party officials to use allegations of "voter fraud" to dampen voting by low‐income and minority Americans, including the firing of U.S. Attorneys who refused to cooperate with the politicization of voter fraud accusations – firings that ultimately led to the resignation of U.S. Attorney General Alberto Gonzales"
"In 50% of their stories, the television network (ABC, CBS, NBC, PBS) newscasts acknowledged that Republicans were attempting to discredit Obama with the allegations of voter fraud. NPR made the same acknowledgement in 38% of its voter fraud stories. But NPR and the television network news lacked persistent fact checking, noting that ACORN was already reporting registration irregularities, that ACORN was already acting to stop such incidents, and that actual voter fraud is minimal, in only about one‐quarter or less of their voter fraud stories."
"The voter fraud frame (37.5%) dominated ACORN stories at USA Today, which didn't verify the facts of the story so much as carry competing truth claims. For example, an Oct. 15 story began with this sentence: 'Less than three weeks before the November election, the Democratic and Republican presidential campaigns are trading accusations of voter
fraud and voter suppression and gearing up for possible court battles over the outcome.' The rest of the story carried the competing accusations."
"Journalism is essentially a discipline of verification, and verification is what separates it from propaganda, as Tom Rosenstiel and Bill Kovach note in The Elements of Journalism. In the case of ACORN, the story continued—and still continues—to serve as misinformation because it has largely been reported without transparency and accuracy."
There is a lot in this report — it's essentially a blueprint for how to infiltrate the public debate, and spin and inflame your issue. It doesn't so much excuse ACORN's recent egregious — and captured in flagrante on video — lapses as put them into the larger context of what ACORN does and how it has been covered. Ironically, the length and density of this report is probably what will keep it from being covered in much detail — but Maddow has a pretty sweet platform, and seems unafraid of using it to excavate a nuanced and unpopular-with-Dems-right-now subject. But this story isn't just about defending ACORN, not by a long shot — it's about how news organizations report, analyze, verify and contextualize stories, under deadline and in the pressurized context of 24-hour news coverage. A great use of Maddow's platform to pay it some attention; let's see if anyone else does.
Have a tip we should know? [email protected]