Rachel Maddow: "You Have To Wish Ron Paul Away' To See A Rick Santorum Consensus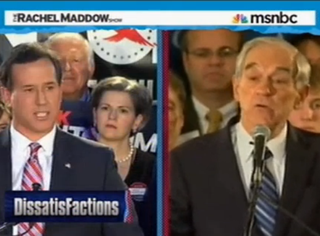 After Iowa, it appears that, barring a surprise come-from-behind from another candidate (a possibility not entirely possible to rule out), the Republican primary is a three-man race. Many are hesitant to predict that Mitt Romney has the nomination under his belt, and with good reason– because so much of the Republican base rejects him. But on tonight's show, Rachel Maddow analyzed the alternatives and found that, because supporters of the other two top candidates can find no common ground, it is difficult to see the Republicans nominating anyone but Romney.
There was only one thing on which Rick Santorum and Rep. Ron Paul supporters could agree, according to Maddow: that the government should be "large enough and intrusive enough to make sure that every fertilized egg in this nation [becomes] a baby." Besides the issue of abortion, Maddow contended that Santorum and Rep. Paul were "total opposites, oil and water."
RELATED: Rachel Maddow: 'Ron Paul Voters Are Human Beings, Too. Why Does Nobody Compete For Them?'
She began with non-abortion social issues– "Rick Santorum would like to use the government to dictate the perfect sexual union for every family in America, because he knows what that is," Maddow noted. Meanwhile, Rep. Paul would legalize prostitution and heroin. The contrasts were even more stark in foreign policy, as Maddow played clips of Santorum threatening to invade Iran while Rep. Paul opposed even sanction for its nuclear program.
With those differences, Santorum and Rep. Paul have the typical problem that niche candidates have. Meanwhile, Romney has "to contend with a Republican electorate that doesn't seem to like him very much at all, that doesn't want to coalesce around him." This would be a serious problem for Romney, argues Maddow, if only it weren't the case that "the part that doesn't like him is bifurcated between two very different opinions." In order for Romney to lose, the Santorum base would have to coalesce around Rep. Paul or vice versa, which is near impossible. Maddow concluded that it was possible the media could claim Romney was in trouble, however, and that would be because of its tendency to ignore Rep. Paul. "It is only if you ignore Ron Paul… that you can see a non-Romney consensus candidate emerging," Maddow concluded, having dismissed the other candidates after yesterday's results earlier.
The segment via MSNBC below:

Have a tip we should know? tips@mediaite.com