Maddow's Blistering Critique Of The GOP: Moderates Like Bob Dole Now 'Anathema' To The Party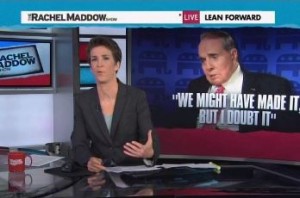 Rachel Maddow used Republican Bob Dole slamming his own party on Fox News Sunday to deliver a scathing critique of the GOP's shift further to the right in the past few years. She said that whereas in 1996, when Dole was considered the big mainstream, loyal Republican, after his comments on Sunday he's been widely dismissed by conservatives. Maddow took the Republican party to task for drifting so far to the right, the moderate views of Bob Dole are now considered "anathema" in the party.
RELATED: Bob Dole Lashes Republican Party: They Should Put A Sign On The Door That Says 'Closed For Repairs'
Maddow first had some fun reminding viewers that when Dole ran for president on the Republican ticket, it was the first time presidential campaigns had created official web pages as part of their campaign efforts. She said during that election, Dole was the "trusted, widely respected Republican of all Republicans" and was the personification of "what it meant to be a Republican."
She brought up how Dole touted his support for the Clean Water Act, the Endangered Species Act, the Violence Against Women Act, the Voting Rights Act, food stamps and the Americans with Disabilities Act, among other things. She said that it would be "impossible" to imagine this being part of any Republican campaign platform in the year 2013, pointing out how Republicans in Congress gutted the Clean Water Act, voted against reauthorization of the Violence Against Women Act, and are now targeting food stamp programs.
"One of the major paties in the United States has changed so much, so rapidly, that when you talk policy, there's no way to know this was the Republican party. There has been an unrecognizable change in the party over the course of less than 20 years."
She ran a clip of Dole declaring that "the bridge between failure and success can be the government itself," asking, "How far do you think that sacrilege would go in today's Republican party?" Of Dole's comments this weekend, Maddow said he's right to think that much of what he believed is now "anathema" to the party.
Maddow was particularly critical of Kansas senator Pat Roberts. She noted how Roberts considers Dole a political inspiration (Dole having served as a Kansas senator for over 25 years), and how Roberts will apparently be in charge of Dole's funeral arrangements when the time comes. And after all that, Maddow slammed Roberts for voting down a U.N. disability treaty while Dole was in the room, lobbying intensely for its passage.
Watch the video below, courtesy of MSNBC:
—–
Follow Josh Feldman on Twitter: @feldmaniac
Have a tip we should know? tips@mediaite.com
Josh Feldman - Senior Editor