'Racial Undertone That Never Goes Away': Morning Joe Spars Over Whether Obama Endures New 'Level Of Vitriol'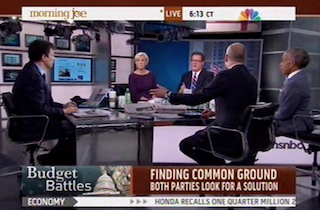 Amid a discussion about Washington's effort to reach a budget deal, the Morning Joe panel took a bit of a tangent turning to the topic of vitriol and attacks in politics. The panelists quickly found itself at odds with each other, not seeing eye to eye on whether the nastiness on the political scene has gotten worse.
The New Yorker's David Remnick argued that we tend to "mythologize" the Kumbaya cooperativeness of the Clinton era, and that their battles were "more ferocious" than that.
"But I think also you can't underestimate the kind of venom that a lot of the attacks were on this president," Al Sharpton countered. "And I think that a lot of it was very extreme…and I think he reached out."
John Heilemann pointed to a shift among Republicans. Where those like Scarborough were once the "firebrands," he said, they're now considered moderates — because the party has moved farther to the right. Using Scarborough as an example, he noted how he's criticized as a "RINO" now, but holds the same views.
"They started making deals and they ran us over," Scarborough said. "And that's what they're doing right now."
"What John is saying," Remnick sought to clarify, "is that the radical wing has gotten a hell of a lot more radical."
"We were attacked as savages, as beasts, as barbarians at the gate," Scarborough asserted. "Things we said about Bill Clinton though? … The leading voice of the Christian right put out a video series suggesting he murdered people."
So, he noted, "Barack Obama does not know the level of vitriol that Bill Clinton experienced…that was a fault line."
Remnick argued that Clinton was attacked on a moral level, whereas with Obama, in some cases, "there is a racial undertone that never goes away." But in Clinton's case there was a "legitimacy" argument, Scarborough asserted.
"I'm the last to make Bill Clinton out to be a victim," Mika Brzezinski weighed in, "but to say that it was different, and to say that the level of vitriol, or the level of hatred, or the level of nastiness in terms of attacks — that's impossible. […] When you go to Washington, this is what happens. And it's not new today, and it's not especially worse today."
Not necessarily worse, Remnick said, but differing types of attacks about different issues.
Take a look, via MSNBC:

Have a tip we should know? tips@mediaite.com