'Racism Is Not a Major Problem!' Larry Elder and Marc Lamont Hill Shout at Each Other on CNN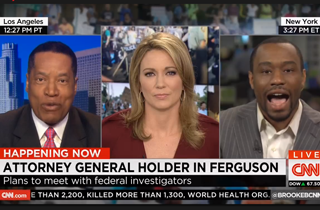 Brooke Baldwin played an exasperated host to CNN commentator Marc Lamont Hill and radio host Larry Elder, whose discussion over Barack Obama's actions on the Ferguson protests quickly, quickly fell apart into them yelling past each other for the entire segment.
It started off as two men taking two very different positions on the root causes of Ferguson: Hill argued that the debate should be centered on institutionalized racism in law enforcement, while Elder countered that the problem lay within the black community and the lack of paternal figures.
But when the conversation turned towards mental health in the African-American community and its role in the recent "suicide by cop" shooting in St. Louis, Elder completely ignored the question and continued to rebut Hill's earlier argument. "As long as black people believe that race and racism is a major problem in America, you'll continue to have that 95%, monolithic black vote, without which the Democratic party cannot survive," he continued.
"Are you saying that racism isn't a major problem in this country?" Baldwin asked.
"No! No, it is not!" Elder yelled, growing angrier when Hill reminded him that the question was about mental health. "Why do you have to insult me all the time?"
"You totally didn't acknowledge my question or or respond to my comment," Hill shot back.
They continued yelling over each other for many minutes until Baldwin, unable to wrap things up in a civil manner, waved her hand at the camera: "Buh-bye."
This is a textbook case as to why cable news often comes off as a pro-wrestling match for politics.
Watch the worst of it below via CNN:
And, for context, the slightly more civilized first half of the debate, right before it went to hell:
[Image via screenshot]
—
>> Follow Tina Nguyen (@Tina_Nguyen) on Twitter
Have a tip we should know? tips@mediaite.com