Raddatz to Netanyahu: Why Would Obama Want a Deal That 'Threatened Israel's Survival?'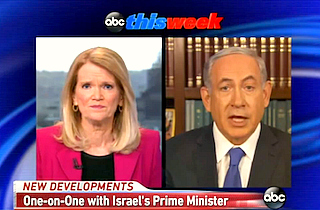 This Week host Martha Raddatz challenged Israeli Prime Minister Benjamin Netanyahu Sunday to defend his criticism of the proposed Iran nuclear deal, which Raddatz intimated had been made in such strong terms as to question President Barack Obama's and Secretary of State John Kerry's good faith toward Israel.
"Why do you think Obama and Kerry would want an agreement that, as you say, threatens the survival of Israel?" Raddatz asked. "Why in the world would they do this if they thought the survival of Israel was at stake?"
"I'm sure they think it's a good deal," Netanyahu said, warning that a nuclear-armed Iran would start a Middle East arms race. "I think this is a bad deal…They're going to use [sanctions relief] to pump up their terror machine worldwide."
RELATED: CNN's Jim Acosta to Netanyahu: Do You Trust Obama?
Raddatz pushed Netanyahu to explain exactly how he would "get a deal Iran would accept," given that this one took years to achieve. Netanyahu argued that deals that seem impossible one day are suddenly possible the next, citing Syrian President Bashar al Assad's destruction of his chemical weapons last year.
Raddatz pointed out that this was only achieved through the threat of airstrikes. "Would you threaten unilateral airstrikes to Iran?" she asked.
"The United States says it has a military option on the table," Bibi replied. "No less effective have been the crippling sanctions that have only been applied since 2012…With the drop in oil those sanctions have been even more effective. That's what got Iran to the table in the first place. Once they're at the table. Why let up on those sanctions? That's the time to increase the pressure and to get tomorrow what you can't get today."
Watch the clip below, via ABC News:

World News Videos | US News Videos
[Image via screengrab]
——
>> Follow Evan McMurry (@evanmcmurry) on Twitter
Have a tip we should know? tips@mediaite.com