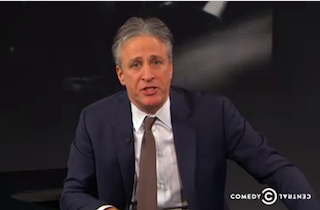 After Jon Stewart used the opening segment of his Tuesday night show this week to urge "science-denying affluent California liberals" to vaccinate their children against preventable diseases like the measles, radio host Robert Scott Bell has accused the comedian of acting like a Nazi.
During his segment, Stewart simply made the point that because a parent's decision not to vaccinate their children puts other kids in the community "in jeopardy," there should be some sort of mandate to make sure everyone gets the proper vaccines.
But according to Bell, Stewart "just basically said you people that are not vaccinating your children, you've turned your children in ticking biological time bombs and now we have to act."
"This is basically how they said the Jews, the scourge of the world, we've got to take them out," he continued. "We've got to take out the gypsies, we've got to take out the gays. Now we've gotta take out the people who are aren't vaccinated under the guise that they are unclean."
Elsewhere in his radio commentary, Bell argued that Stewart "should know better because of his Jewish heritage," adding, "if he knows anything about the Holocaust here, he's throwing his fellow liberals under the bus but he's throwing all of us who believe in health freedom and healing liberty and a natural way of life."
"He's ready to take us out and put us in concentration camps," the radio host concluded.
One look at Bell's Twitter feed and website shows that he has been a vocal participant in the anti-vaxxer movement, especially over these last few days and weeks as the issue has gained national attention thanks to the measles outbreak.
Listen to audio below, via The Robert Scott Bell Show:
And watch the full Daily Show segment below, via Comedy Central:
[h/t Epic Times]
[Photo via screengrab]
— —
>> Follow Matt Wilstein (@TheMattWilstein) on Twitter
Have a tip we should know? tips@mediaite.com