Radio Host Hits Back At Wasserman Schultz: Mayor Villaraigosa 'Cast' By Democrats To Appeal To Latinos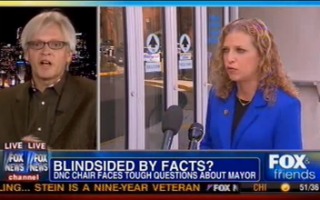 Friday, Fox & Friends' Gretchen Carlson spoke with LA-based radio host Doug McIntyre to discuss his recent, contentious interview with DNC chairwoman Debbie Wasserman Schultz. You might recall that the two engaged in a heated, on-air argument over Los Angeles mayor Antonio Villaraigosa.
Here's a bit of what they'd said:
Here's the problem: We live here," McIntyre interjected. "There might be a vision – the vision that Antonio Villaraigosa is a desperate vision of getting out of office before the bankruptcy of Los Angeles kicks in in 2013… He is hoping like hell that Obama wins so that he could be appointed assistant secretary of anything so that he doesn't have to sit here and deal with the damage that he did to the city. You can sell that in North Carolina, but you can't sell that in Los Angeles."

"With all due respect, I find your comments disappointing and borderline offensive," Wasserman Shultz responded.
RELATED: Debbie Wasserman Schultz Gets In Fight With On-Air Personality Over LA Mayor Antonio Villaraigosa
McIntyre compared Wasserman Schultz's commentary to him, a New York native and Los Angeles resident, heading to Kansas "and telling the farmers how to do their job." He also characterized her comments as a strategic means of energizing the Democratic party's Latino base in the wake of President Barack Obama's record.
"So the idea was," McIntyre told Carlson, "to get a prominent Hispanic politician and they chose Antonio Villaraigosa. So it's really just a matter of 'casting,' not certainly based on achievement."
When Carlson noted that she hasn't seen a lot of national coverage of Villaraigosa as a possible choice to run the DNC, McIntyre ventured that it's because the Mayor's image is currently undergoing an organized "rehabilitation" process on the part of Democrats because the "11 Percent Mayor," as McIntyre put it, simply has not had a stellar record when it comes to the city's finances or to issues of ethics.
"Maybe he's preparing for the convention," Carlson suggested, referring to his "11 percent" moniker. "I'm being smug," she clarified.
Have a look, via Fox News:
Have a tip we should know? tips@mediaite.com