Rahm Emanuel On Economy: 3 Years Not Enough To 'Take A 10-Year Cycle And Just Turn It Around'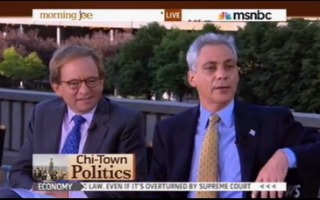 Chicago mayor and former White House Chief of Staff Rahm Emanuel stopped by Morning Joe's Chicago show on Tuesday, where he spoke at length about the economy, the auto industry, and Republican candidate Mitt Romney.
"The economy slowly is growing," he said. "We are growing, not at the strength we need to, because of the actions that President Obama took." Among the examples he gave was that of a Chrysler plant that, since Barack Obama took office, has grown from 200 workers to 4,000.
"These are great stories," said host Mika Brzezinski. "But , how hard is it going to be in the landscape–"
RELATED: Morning Joe: Bill Daley Demotion Is White House Reaction To 'Internal Frustration' In Post-Rahm Era
"No, no, no. True," he broke in. "True stories."
"I understand they're true, Rahm," she responded, "but how hard is it going to be politically when you have people not doing as well as their parents did and incomes on the downslope and long-term unemployment at a record high?"
"That's a different question than the one you asked me," he replied. "The question is, is it going to be hard? I've already said that. Absolutely it's going to be hard. This is going to be a very tough election, because these are tough issues, and it deserves to be a tough election, but those are the facts."
Later, the Mayor took issue with the premise that Romney had "granted" Obama the auto bailout. "He didn't grant the auto industry; he gave you his view," he explained. "That's a different perspective. And both these men can come from different backgrounds. Mitt Romney's view was, look at the numbers, let it go bankrupt. The President, who spent time on the South Side dealing with steel workers who were losing their jobs and saw a community devastated, had different voices, different concerns." He felt that Obama would be the one to "stand by the middle class" if re-elected.
But host then Willie Geist brought up Romney's comment that Obama has now had three years to make the necessary changes to the economy and it hasn't happened.
"First of all," Emanuel responded, "his policy have stopped exactly the erosion that he inherited. And it hasn't been fast enough turnaround, no doubt about it, but three years is not the time you can take a ten-year cycle and just turn it around."
Check it out, via MSNBC:
Have a tip we should know? tips@mediaite.com