Rainn Wilson Hits Back at Critics Who Find His New Fox Show 'Racist' and 'Sexist'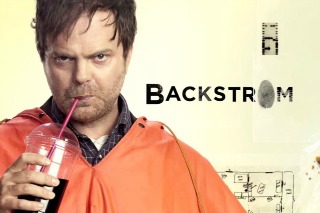 Rainn Wilson isn't bothered by the criticism of his new Fox show Backstrom as being "offensive," "racist," and "sexist."
Appearing Wednesday evening on KIRO Seattle's The Jason Rantz Show, the former star of The Office explained that while the eponymous character, Lt. Everett Backstrom, says a lot of "bile" — much like All in the Family's Archie Bunker — the show does not "celebrate" such bigoted views of the world.

For background: The new Fox show focuses on the eponymous Portland detective who, despite being irascible and self-destructive, finds a niche in solving crimes by getting into the mindset of a criminal. While being lauded for his mystery-solving abilities, Lt. Backstrom squanders his good will by vocalizing all kinds of bigoted thoughts.
"People are going to be mad," Wilson told host Jason Rantz. "They're going to yell at me online in all-caps. But I think it's a really interesting lens to look at a character through. It's a reason he's able to be such a brilliant detective: He solves crimes by seeing the dark side of people."
Asked whether Fox brass had any doubts about the show's ability to succeed in today's "hypersensitive" culture, Wilson replied: "It was pretty risky of Fox to put it on the air." After the pilot aired, he said, people would tell him, "I can't believe you got away with saying that stuff."
But he clarified once more the point of the character's chauvinistic ways:
It's not like he says offensive things and then people applaud him. We see the reality of the response the people around him have. And we see how it's not working for him, and this is ultimately a show about coming out on the other side. It's a show about finding yourself.
When Rantz brought up a scathing New York Times review of the show, Wilson said he gets "annoyed" when people don't understand the point of the character's caustic ways. He added that a contemporary "political correctness environment" will simply point to the terrible things Backstrom says, and not consider the demonstrably negative reaction from those around the character.
By having such balance, Wilson said, "You get to engage in a dialogue about this stuff; it exists. And If you're not allowed to have a character that's racist or sexist, then you're missing out on a huge chunk of the American population and missing out on a change to explore some real issues."
Ultimately, he concluded, "Backstrom is not a show that celebrates hatred and bigotry. It's a show about a very wounded man who has a lot of scar tissue and this is his way of coping in the world and it's not working and it's not right. And we see that redemption."
Listen below, via KIRO 97.3FM:
— —
>> Follow Andrew Kirell (@AndrewKirell) on Twitter
Have a tip we should know? tips@mediaite.com