Ralph Nader: 'Spoiler' Is A 'Politically Bigoted Word' To Use For Third Party Candidates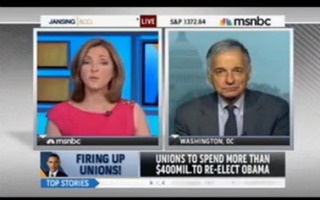 Former Green Party nominee Ralph Nader visited MSNBC's Jansing & Co. Wednesday morning, where he gave host Chris Jansing a few solutions to dealing with rising gas prices.
Even though President Obama believes there's no "quick fix" when it comes to combating prices at the pump, Nader said, there are a few things his administration could be doing right now.
RELATED: Report: A Third-Party Ron Paul Run Could Doom The GOP's White House Hopes
For one, he said, "you stop your people from constantly threatening Iran — and that's another whole story; I think Ron Paul has it right on that." Additionally, we could have more competition. There's an internet vote currently underway, he shared, that would allow Americans to choose a third party candidate, which could, as he sees it, ultimately "change the dynamic a little bit."
Jansing was skeptical. "What does a third party candidate bring to the table?"
"Well, depends who the candidate is," Nader replied. But, for example, bringing on a third party candidate "could move for electoral reform so the voters have more choice and they get their expectation levels raised. Without higher voter expectation levels, you don't get higher performance by the politicians."
"And you don't just serve as a spoiler?" asked Jansing.
"First of all, 'spoiler' is a politically bigoted word," said Nader, "especially for the two parties to use since they have spoiled our electoral and political system. I think it's competition; I think it's new agendas, new ideas that are supported by a large number by the American people, like full Medicare for all. And I think, above all, it respects the voters by raising their expectation level. That's the history of small parties." They push the major parties, he added, to respect the American people.
Have a look, via MSNBC:
Have a tip we should know? tips@mediaite.com